People to Watch 2016: Risa Shapiro, PepsiCo
Get great content like this right in your inbox.
Subscribe
Risa Shapiro
Company: PepsiCo
Title: Director, Shopper Marketing
Age: 33
Education: University of Wisconsin (bachelor's, business administration, marketing); University of Chicago, Booth School of Business (master's, business administration, marketing and organizational behavior)
Ten individuals represent the People to Watch Class of 2016. Nominated by their respective companies' representatives in the Path to Purchase Institute's League of Leaders, these rising stars are making a name for themselves by doing work for their brands that is worthy of attention.
Risa Shapiro knew she wanted to pursue a career in marketing from her first exposure to the discipline in high school. From nonprofit work to leading PepsiCo's Target shopper marketing in Minneapolis, she has seen her goal realized in a relatively short time.
She joined PepsiCo in 2011, newly armed with her MBA, and worked in multiple brand marketing and innovation roles on the company's Tropicana business. In August 2015, she assumed her current post of director of shopper marketing, charged with creating initiatives to change the way shopper marketing is executed. She is credited with leading the first integration of Starbucks "Star Rewards" program with Target's Cartwheel loyalty program – guests receive stars for their in-store purchases. The program delivered double-digit sales growth.
Leading shopper marketing efforts for the full portfolio of foods and beverages at Target entails "setting the vision to integrate PepsiCo's brand equities with Target's strategy," she says. "We have a best-in-class team of shopper marketers at PepsiCo, so we have the opportunity to drive breakthrough programming at a key strategic retailer." She says her team's work to transform the way it activates digitally using the power of data in partnership with Target is forward-thinking and exciting.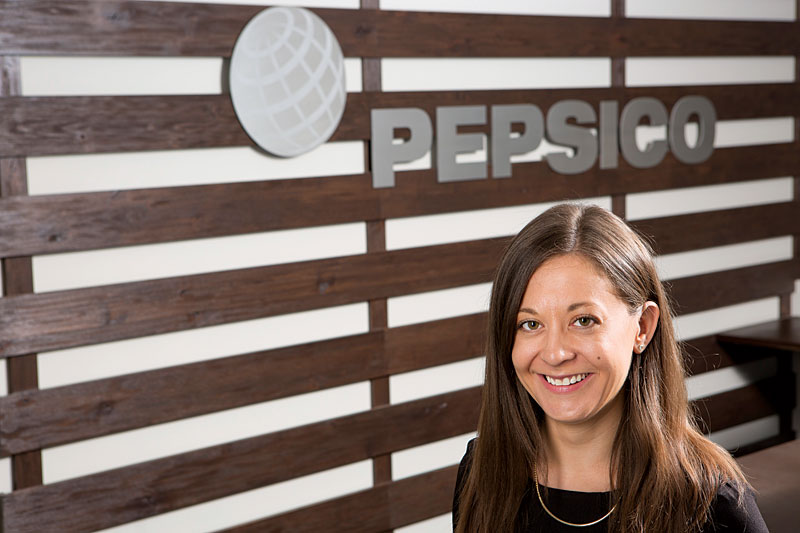 "We're pushing the envelope by developing a custom segmentation approach to identify the most relevant households for brand-specific programming," she says. "It's allowing us to get the right message and offer that to the right shoppers, and then we can measure if we're driving incremental sales and loyalty over time." Being able to leverage both PepsiCo and Target's first-party data and marrying those together is enabling the partners to take the best of both worlds and build a very custom group of households, she says.
But it's not just about uncovering the wealth of data between the two companies or the new capabilities to interpret it all, she notes. "Things are moving quickly and shoppers have the expectation that they're going to be served something that matters to them." And while she sees "massive opportunities" that exist as shopper data continues to get more sophisticated, turning that data into action will continue to be a challenge, she predicts. "Unlocking the power of the data is dependent on digital and merchandising capabilities keeping pace."
Knowing that 75% of shopper journeys involve digital, with shoppers going from screen to store and store to screen as they engage with any brands, the focus on omnichannel marketing has never been stronger. Whether online, in-store or some combination of both, Shapiro's team will continue to work at meeting them where they are. "We focus on building programs that are integrated across all shopper touchpoints, so shoppers have a seamless experience wherever they encounter our brands," she says.
There's a strong eye toward digital because the majority of shoppers are using it in some way to augment their shopping trip. "For our brands at Target, it's a core component to everything we do," she says. "We want that moment of truth in-store but also to ensure we have a cohesive message along the entire path while making the most productive use of our resources."