People to Watch 2016: Marcie Bracht, Starbucks
Get great content like this right in your inbox.
Subscribe
Marcie Bracht
Company: Starbucks
Title: Manager, Shopper Marketing, Walmart & Sam's Club
Age: 34
Education: Michigan State University (bachelor's, advertising)
Ten individuals represent the People to Watch Class of 2016. Nominated by their respective companies' representatives in the Path to Purchase Institute's League of Leaders, these rising stars are making a name for themselves by doing work for their brands that is worthy of attention.
Marcie Bracht was on the path to becoming a medical doctor when, one day, advertising put a jolt in her heart. Bracht, who now leads Starbucks' shopper marketing at Walmart and Sam's Club, was not feeling passionate about pre-med at Michigan State when she sat in on a friend's advertising class. "I was instantly hooked," she says. "I loved the creativity, but my analytical side loved the insights and 'why' behind consumer and shopper behavior."
Bracht and her team are in charge of unifying the feel of a Starbucks location in the aisles. For them, relating with shoppers is called "the conversation."
"In a world with so many distractions, how can we break through the endless amount of information that is presented to shoppers and connect with them in a relevant and meaningful way?" she says. "I feel fortunate enough to work for a beloved brand that shoppers have an emotional connection with. We call it moments of connection. Whether in our Starbucks retail stores or in the channel environment, we want shoppers to have the same experience with our brand."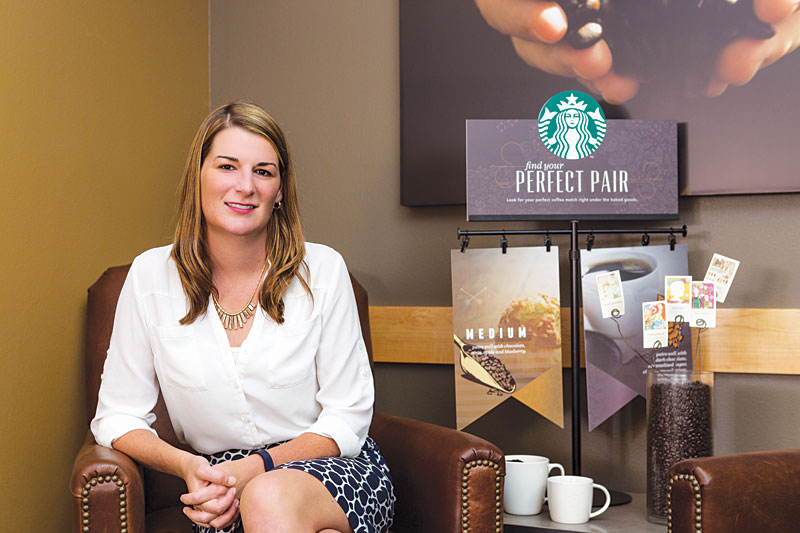 Bracht wanted to start her career on the client side but followed the advice of an internship mentor at Owens Corning who told her that working in agencies made her a much better marketer. After 10 years at The Mars Agency and D.L. Ryan Companies working on accounts including Hallmark, Hillshire Brands, Colgate-Palmolive, Energizer Personal Care, Kellogg's, Clorox, Nestle, Coca-Cola and Nestle Purina, she finally joined the client side.
"It was never my intention to stay on the agency side for longer than two years. However, I really enjoyed that side of the business," she says. "I was fortunate enough to work with some great leaders and great brands across the U.S. and internationally. It wasn't until I moved to Bentonville [Arkansas] that I felt that it was the right time to move to the client side – when an opportunity with Starbucks became available. It has been a huge opportunity for growth in my career."
Additionally, Bracht says her family members have played a large part in fostering her career. "They've taught me that honesty, integrity and respect are the keys to success," she says. "Also, our Starbucks partners – what we call our employees – have made an impact on me. We operate more as a family then we do coworkers."
Bracht says she's proud of a holiday promotion last year that made it clear in store aisles how valuable Starbucks product and giftable items like mugs can be regardless of their omnichannel location. "Since opening our first store in [Seattle's] Pike Place Market more than 40 years ago, we continue to meet the needs of our customers whether it be in our Starbucks retail stores through the human connection with our green apron baristas, online through our Starbucks digital channels, or down the aisle," she says. "Shopping is an experience, whether physical or digital. The key is to provide a seamless experience that meets and exceeds the shopper's expectation no matter when or where they are engaging with the brand."
Bracht says the future looks bright. "I see myself continuing working in the field of marketing in either shopper or brand management," she says. "There is still so much opportunity to innovate and learn in the field of shopper marketing. It's a very exciting time."