NYX Stands Out at Walmart
Get great content like this right in your inbox.
Subscribe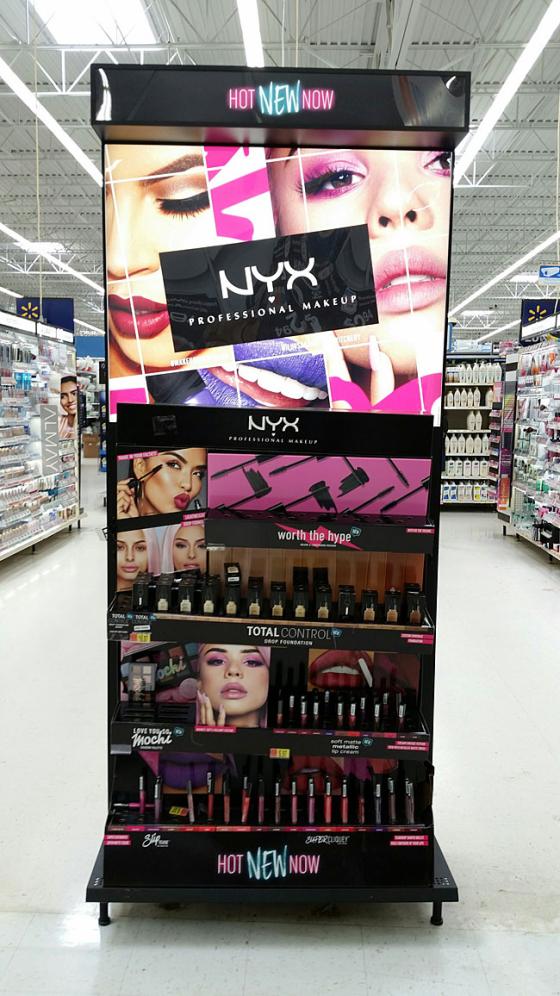 L'Oreal's NYX Professional Makeup is finding ways to stand head and shoulders above other brands at Walmart as the retailer adds more SKUs to its beauty assortment.
In the stores where it is available, the brand commands large merchandising areas presenting a variety of eye-catching, curated merchandising units varying by location. Account-specific displays spotted in recent months include:
An extensive in-line display
An illuminated endcap display
An illuminated gondola
A pallet display
Many of the displays appear permanent. Most depict a "Hot New Now" message and tap into the burgeoning beauty bar scene by presenting product collections under terms such as "brow bar" and "lip bar." The reference is to chic salons that hone in on a specific beauty service, such as blowout bars for hair styling. The displays also frequently leverage hashtags to encourage social media shares.
Security shrouds at store entrances support, presenting the brand as "new" at Walmart. Though it is unclear how long Walmart has stocked NYX products, the brand is coming into its own at the retailer with an increased presence both in terms of visibility and assortment. According to beauty bloggers, the retailer now stocks up to 473 NYX SKUs.
Beauty magazines and bloggers have been touting the trendy yet affordable brand's availability at Walmart. The brand also has leveraged Snapchat to reach a younger audience. A sponsored ad depicting several bottles of the brand's new "total control drop foundation" invited consumers to swipe up to shop for the "amazing products" on walmart.com. The link landed on a NYX e-commerce search results page within the website.
Though NYX doesn't appear to host a dedicated brand showcase within walmart.com, it has controlled up to a whopping 70% of first-page search results for the term "makeup," according to a report published by Clavis Insight in June. The analytics company identified optimized keywords and content — including adding the term "makeup" to product titles — as one reason for the brand's success.