Kroger, Oikos 'Draft' Another Winner
Get great content like this right in your inbox.
Subscribe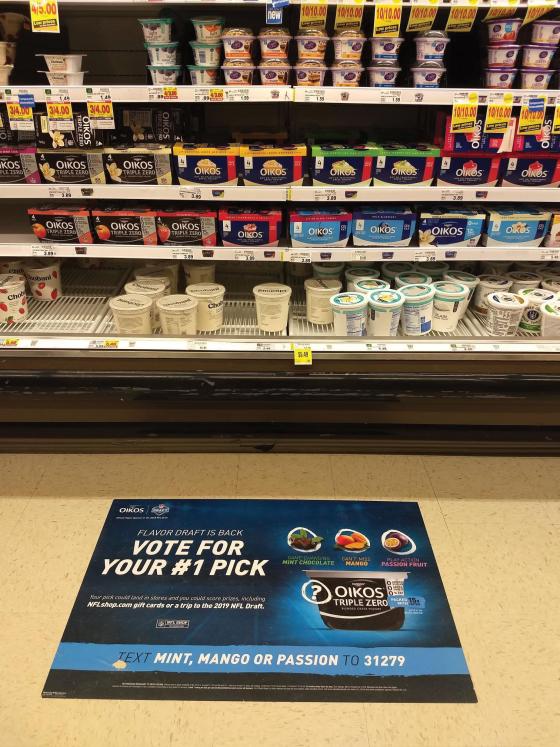 For the second straight year, Danone North America's Oikos activated its sponsorship of the National Football League Draft with a "Flavor Draft" campaign at Kroger, this time expanding the effort's footprint by including Midwestern chain Roundy's.
As it did last year, Oikos conducted consumer research to come up with three new Oikos Triple Zero flavors: mint chocolate, mango and passion fruit. "We actually came up with six top flavors [this year] that are trending not only from a flavor-palate perspective, but also trending with Millennials," says Tony Fung, Danone's senior shopper marketing manager – Kroger. The final flavors were selected based on consumer research as well as input from Kroger's executive team. "We collaborated more on selecting the flavors this year," Fung says. 
From Feb. 4 through March 14, consumers visited OikosFlavorDraft.com to vote for their favorite flavor and enter a sweepstakes awarding a grand-prize trip to Nashville, Tennessee, in April to watch the NFL Draft. Two hundred runners-up received a $50 NFL Shop gift card. YouTech, Brisbane, California, administered the microsite, and Don Jagoda, Melville, New York, handled prize fulfillment. The program and sweeps ran at all Kroger chains excluding Harris Teeter.
The winning flavor rolled out to Kroger stores in April in packaging, communicating the SKU's exclusivity as the winning flavor of the Flavor Draft. After July, the packaging will change but the flavor will remain exclusive to Kroger.
"[Last year's] Oikos Flavor Draft customer campaign was a tremendous success, driving strong customer engagement and fresh new excitement in the yogurt category," says Tom Crowder, Kroger category manager, yogurt. "Green lighting the 2019 Oikos Flavor Draft … was an easy decision. With our extensive customer insights [from Kroger subsidiary 84.51], Kroger shoppers already play a huge role in deciding what goes on our store shelves. This campaign is the perfect program to amplify the customer voice."
Due to the success of its first run, this year the program was fully integrated within the Kroger.com experience and ecosystem, which was a "huge win for us," Fung says. "That is something that we were not able to do in year one. In year two, we kept the same URL and worked with YouTech and 84.51 to have the site integrated within Kroger.com." Kroger loyalty cardholders who tried to vote or enter the sweeps more than once per day were directed to Oikos e-commerce pages within Kroger's chain websites.
Similar to last year, Kroger provided Oikos with loyalty data from 84.51 to develop a targeted advertising program, focusing specifically on heavy and light Oikos buyers and shoppers buying in the Greek category. The marketing plan for the Flavor Draft also included: 
• radio spots and Facebook updates from Hubbard Radio's WKRQ;
• a full-page ad in Hour Media Group's Cincinnati Magazine;
• three outdoor billboards (via Lamar, Baton Rouge, Louisiana) with one placed next to Kroger's downtown Cincinnati headquarters and two positioned near Kroger Cincinnati stores; 
• in-store floor clings from News America Marketing's SmartSource; and
• social media posts from the Flying Pig Marathon and Cincinnati's NFL team, the Bengals.
Oikos also drummed up support for the program among Kroger employees. The brand hosted a lobby event at Kroger's headquarters encouraging staff to sample this year's three competing flavors and vote. Since the NFL draft took place in Nashville this year, Oikos also staged a store associate contest in the Nashville market, awarding NFL tickets to the store with the highest sales of Oikos single-serve yogurt.