Kroger Joins Hasbro, Multiple Brands for 'Family Fun Night'
Get great content like this right in your inbox.
Subscribe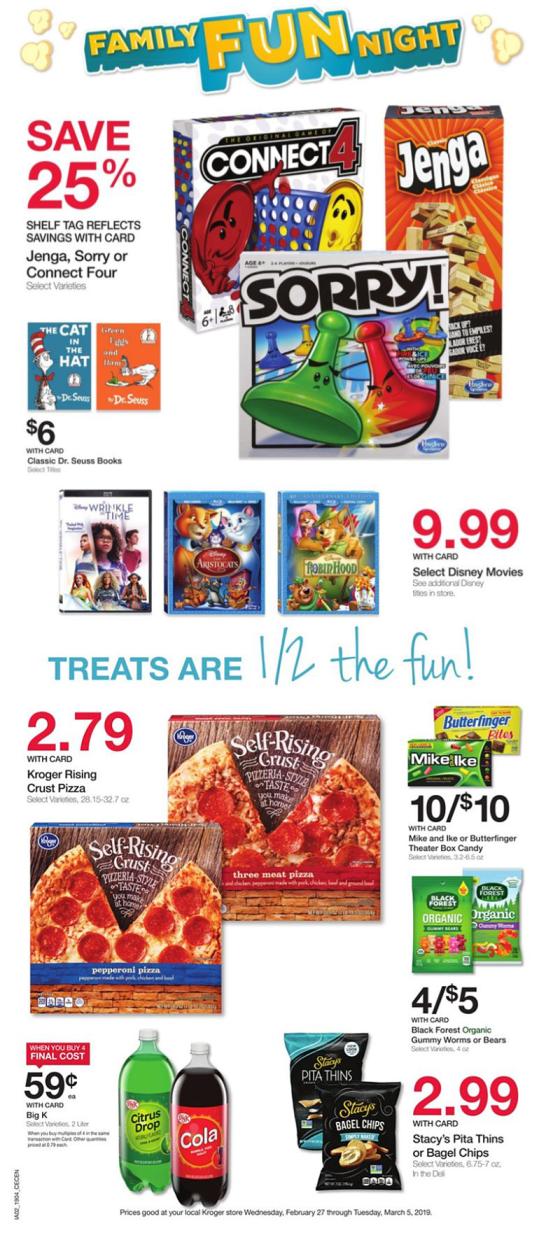 Kroger is shining a spotlight on Hasbro tabletop games, and frozen, snack and beverage SKUs from a variety of manufacturers through a "Family Fun Night" program. 
A Family Fun Night feature in the retailer's Feb. 27 circular touted 25% off Hasbro's Jenga, Connect 4 and Sorry games and highlighted books from Dr. Seuss, and DVDs and Blu-ray Discs of films such as Walt Disney Pictures' A Wrinkle in Time. Adjacent to the feature under a "treats are 1/2 the fun" message, Kroger private label frozen pizzas, Ferrero's Butterfinger chocolate bars and Black Forest gummies, Just Born's Mike and Ike candy, Big K private label sodas and Stacy's Pita Chip's flagship snacks were also spotlighted.
In stores, Hasbro table top games and Black Forest candy enjoy secondary merchandising space via floorstands. A "Family Movie Night Candy Store" pallet display also serves to stock candy from brands including Mike and Ike and Butterfinger. DVDs and Blu-ray discs from a variety of films are also merchandised on floorstands positioned next to the pallet display (at least at one Kroger location in Bloomington, IL). 
Online, a home page display ad on most chain websites direct users to a dedicated Family Fun Night page that lets users add select games, toys, books, movies, snacks and beverages to their cart and directs users to pages for: 
a Tasty video on how to make Instant Pot turkey chili mac,
a "family dinner conversation starters" activity, and 
Family Fun Night digital coupons totaling up to $12 from brands including Nestle's DiGiorno and Kraft Heinz's Bagel Bites. 
The last page also promises Pickup curbside shoppers their $4.95 fee to use the service would be waved with the purchase of five eligible PepsiCo/Frito-Lay SKUs.
NOTE: For a look at more Kroger images from this program, visit P2PI.org. Path to Purchase Institute members have access to more than 7,500 images and 580 articles of marketing and merchandising activity at Kroger, along with a full Retailer Profile outlining the chain's operations and strategies.