Kimberly-Clark Ups Its Game at Meijer
Get great content like this right in your inbox.
Subscribe
Partners build on success of 2016 program with increased engagement
More Information
MANUFACTURER: Kimberly-Clark
RETAILER: Meijer
KEY INSIGHTS: After a successful 2016 program, K-C had access to a variety of analytics to get shoppers to engage and convert further.
ACTIVATION: In 2017, the partners added a sweepstakes and instant-win matching game while again employing in-aisle floor clings and circular features. They also added a way for consumers who enter the sweeps to share details about it on Facebook and Twitter.
Neenah, Wis. — As soon as Kimberly-Clark, Geometry Global and HelloWorld wrapped up the 2016 "Summer Dreams" promotion at Meijer, they began considering how they could make an even bigger impact on shoppers in 2017. "Last year we had a great result," says Geometry Global account executive Isabella Rodriguez. "HelloWorld was able to share the analytics of everything. We could see who entered [the sweepstakes], who registered more than once. There were a lot of things that we could look at."
The effort activated K-C's longstanding partnership with Walt Disney Co. to award three winners with a family vacation to Walt Disney World in Orlando, Florida. Floor clings, a circular feature and display ads on YouTube.com and Meijer.com promoted the sweeps along with associated offers on Huggies, Goodnites and Kleenex through Meijer's mPerks digital coupons program.
"Meijer is very supportive of everything from an agency standpoint," says K-C's senior team leader for Meijer, Lisa Stehling. "It was a lot of work, but it was a great success. Our goal was getting the shoppers engaged. We believe our partnership with Disney is a way we could make that happen. We wanted to make sure we were giving parents a way to engage with their children."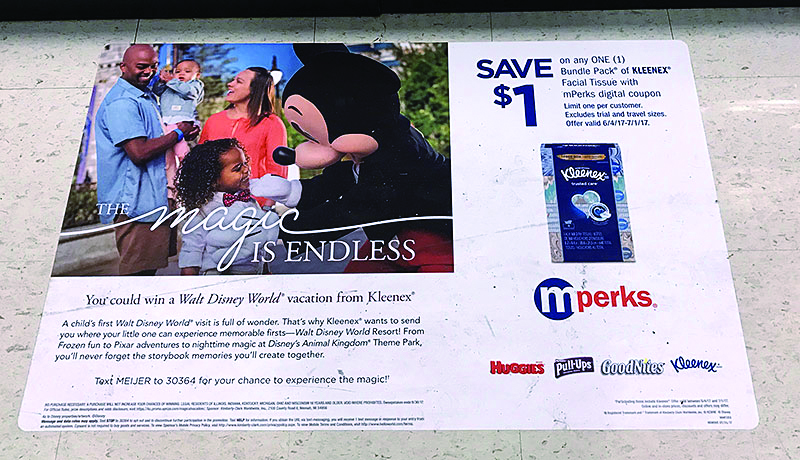 For 2017, the partners worked to further increase that engagement with a sweepstakes and instant-win matching game running from June 4 to Sept. 30. While they again are employing in-aisle floor clings and circular features with creative from Meijer's agency, Geometry Global, they also added a way for consumers who enter the sweeps to share details about it on Facebook and Twitter. The feature and digital activity also dangle a variety of deals on K-C brands:
A $2 mPerks digital coupon for Huggies, Pull-Ups or GoodNites valid from June 4 to July 1.
A $1 mPerks coupon for Kleenex valid during the same period.
$15 off a future receipt with purchase of two Huggies giant diaper packs.
$5 off a future trip for shoppers who spend $20 on Huggies wipes.
This sweeps awards just one family a Disney World vacation, but the instant-win game adds 2,760 additional prizes including $100 Disney gift cards, $30 Fandango digital gift cards and Disney sticker sheets. "We wanted to keep the shopper engaged throughout the campaign," Rodriguez says. "That's why we decided to do the instant-win – so the shopper would continue to visit the site."
Samantha Boudro, account director for HelloWorld, which administers the sweeps and game, says that tactic has succeeded and that they're already in talks to run it again in 2018. "I think the instant-win component has been a great addition," she says. "We're excited to see what the results are and how we can make an even bigger impact next year."
That engagement is important to K-C, which is trying to capture both new moms and keep the brand front of mind for existing customers. K-C is measuring retainment, market share and sales dollars during the promotion and will be looking at whether they captured new shoppers and were able to keep them afterward.
"It's getting harder and harder in the industry to get shoppers to convert or even engage," Stehling says. "We don't have all the results yet, but the early read was that we were able to grow share within Meijer. As we get the findings and all the data, it will help us with our planning for next year. Everything we can learn will help us plan for next year."
This year's campaign also builds on the high level of mobile engagement the 2016 effort received. Rather than having to go to the promotional website, consumers can now enter by sending a text message.
K-C's Disney assets are particularly attractive to Meijer, which also runs an annual program promoting Walt Disney Co.'s Disney Princess and Marvel toys, books, apparel and home videos. "Meijer's a great wholesaler in the market," Stehling said. "We have a great relationship with Meijer. It was a perfect fit."