Johnsonville Expands Bratsgiving at Retail
Get great content like this right in your inbox.
Subscribe
Campaign Snapshot
BRAND: Johnsonville
KEY INSIGHT: Strategic retailer customization can take national programs to new levels.
ACTIVATION: Johnsonville and partners (including Meijer, Food Lion and Shop 'n Save) expanded the reach of Johnsonville's Bratsgiving program with a heavy digital presence, in-store activities and events featuring "Carl the Great Bratsgiver" character.
'Carl' character appears throughout path to purchase in national campaign
Sheboygan Falls, Wis. — Johnsonville took its annual "Bratsgiving" program to the next level in 2017 with a heavy digital presence, in-store activity and events featuring its "Carl the Great Bratsgiver" character. Droga5, New York, had created the fictional legend for the 2016 campaign.
"Given the time frame, we were only able to introduce Carl via Johnsonville social channels in 2016," says Stephanie Plehn, shopper marketing manager. "The goal in 2017 was to introduce Carl on a national level by using him in conjunction with retailer promotions both in-store and along the entire path to purchase."
Johnsonville first declared Aug. 16 "National Bratwurst Day" in 2014 to launch a digital "12 Days of Bratsgiving" campaign. Digital and in-store activities at retailers promoted the holiday again in 2015 and created a 16% lift in sales nationally. In 2016, Johnsonville stepped up its activity to reach retailers earlier and make the campaign work for their timelines.
Carl grants Bratsgiving wishes as part of his lore, which is why many retailers have built a wish or give-back to a charity as part of their Bratsgiving celebrations, Plehn says.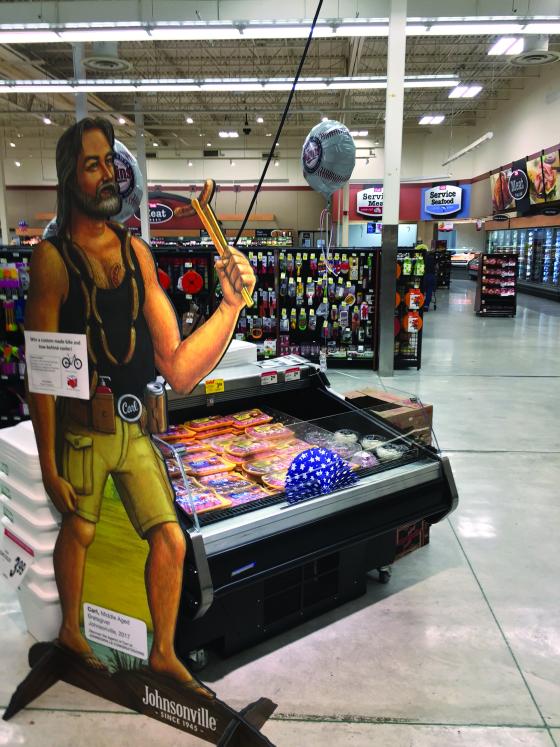 A 2017 Meijer promotion with a Brat hot tub recipe gave shoppers ideas for individual Bratsgiving celebrations. A Facebook Live video with an actor portraying Carl at a Meijer store in Michigan amassed 1 million views over three days in July. "We were excited to be the first retailer to give Carl a voice through our Facebook livestream," says Crystal Stowe, Meijer senior marketing specialist – vendor partnerships, dairy, fresh and frozen. "Some (shoppers) recognized him from Johnsonville advertising while others were intrigued by the man riding the motorcycle with a cooler backpack. All in all, it was a fun campaign."
The video encouraged consumers to submit a worthy person or charity that deserves a celebration. The result: Carl granted a wish to a local fire department that had lost its chief while responding to a call earlier in the summer.
One of the biggest 2017 Bratsgiving initiatives included Ahold Delhaize's Food Lion. The campaign was entirely digital – even the coupons. A series of five humorous Facebook videos were created to help Food Lion shoppers get ready for Bratsgiving. The videos described different ways to cook bratwurst; included were grilling tips (don't poke a brat), Hot Tubbin' (using a crock pot with beer and onions) and deep frying. In tandem with the Facebook campaign, eight custom bratwurst recipes were created for Johnsonville by Food Lion's culinary teams.
The customized digital campaign was created in collaboration with Johnsonville's marketing and Food Lion's social and digital teams. The program drove high levels of engagement, and Johnsonville sales increased by 14% versus prior years.
Johnsonville also participated in the Seafair summer festival in Seattle. Carl spent a day greeting fans, giving out brats and spreading cheer. A collaborative Facebook post announced that Carl was riding through Seattle on his motorcycle visiting Albertsons Cos.' local Albertsons and Safeway stores.
In the Midwest, Supervalu's Shop 'n Save staged a #BratsgivingSNSContest, awarding custom coolers and Johnsonville brat 12-packs to select participants who took an in-store photo with a standee depicting Carl and then posted the image on social media using the hashtag. The standees were produced by Graphic Composition, Greenville, Wisconsin.
From Aug. 5-16, Johnsonville hosted another "12 Days of Bratsgiving," offering consumers a chance to win hats and T-shirts, can koozies, a Carl costume and brat necklaces.
"Looking ahead, we will continue the nationwide trend of celebrating Bratsgiving and strategically partnering with retailers," Plehn says. Carl will definitely be a part of those celebrations, depending on how the retailers want to make it their own. That's how we customize it."