Home Depot, Kidde Tout Fire Safety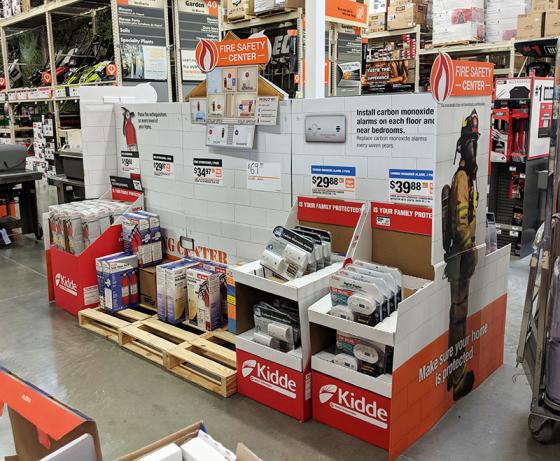 The Home Depot is tying in to October's designation as "Fire Prevention Month" to spotlight related products from United Technologies' Kidde.
Upfront "Fire Safety Center" pallet trains stock items from the brand, including Kidde fire extinguishers and smoke detectors. The displays also depict ideal rooms in a home to install fire extinguishers as well as smoke and carbon monoxide alarms, and communicate fire safety tips such as:
"place fire extinguishers on every level of your home,"
"install carbon monoxide alarms on each floor and near bedrooms," and
"replace smoke alarms every 10 years."
Oct. 18 Twitter and Facebook updates also supported, directing users to a page within homedepot.com containing a video explaining how to install a smoke detector, while spotlighting Kidde SKUs. An Oct. 15 email to Home Depot Pro Xtra members also touted Kidde SKUs, promising 15% off select fire safety items from the brand through Oct. 21.