Hall of Fame Profile: Tony Dunning
Get great content like this right in your inbox.
Subscribe
Tony Dunning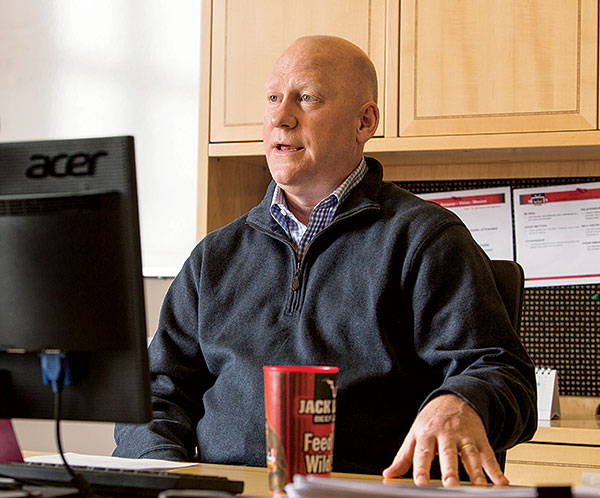 TITLE
Executive Vice President, Customer Development/Sales, Jack Link's Beef Jerky: August 2014 to present
CAREER PATH
Vice President, Consumer Sales and Customer Development, Kimberly-Clark: July 2009 to July 2014
Vice President, Walmart Global, Kimberly-Clark: 2005 to 2009
Vice President, Sales, Walmart Team / Director, Sales, Walmart Team, PepsiCo: 2000 to 2005
National Director, Trade Development, Walmart Corporate Team, E. & J. Gallo Winery: 1996 to 2000
Senior Account Manager, Walmart Corporate, E. & J. Gallo Winery: 1993 to 1996
State Manager, E. & J. Gallo Winery: 1991 to 1993
Prior to 1991, promotions from Field Sales Rep to Sales Manager of the Gallo Division of Paramount Liquor Co.
EDUCATION
University of Nebraska at Kearney, Bachelor of Science, Business Administration and Management/Finance: 1981 to 1984
Tony Dunning, executive vice president, customer development, Jack Link's, has been selected for induction into the Path to Purchase Institute/Shopper Marketing Hall of Fame for 2016. Dunning – along with Barry Roberts, director, retail shopper solutions, Colgate-Palmolive, and Douwe Bergsma, chief marketing officer, Georgia-Pacific – was honored at the Institute's 23rd annual induction ceremony, held in conjunction with the Shopper Marketing Effie Celebration, on March 16 in New York.
Over the course of a three-decade career, Dunning has had an insider's view as companies as varied as E. & J. Gallo Winery, PepsiCo, Kimberly-Clark and Walmart helped shape shopper marketing's development. He sat down with Shopper Marketing magazine editorial director Bill Schober in early February at Jack Link's' Minneapolis marketing offices.
Let's start with the basics. Where did you grow up?
Dunning: I was born in Omaha and lived there until I was in second grade. Then I moved to Blair, Nebraska, which is a little town on the Missouri River. My father just felt it was important for us to get to a small town.
Once we got to Blair, my father ended up buying a small 24-room hotel called "The Clifton." He was the owner and proprietor, so guess what? It became a "family business," which basically means we had no outside help. We did everything ourselves, from registering guests to bellboy duties to maid service.
So there I was, a 10-year-old fourth grader, standing at the front desk, registering people in and out.
That's like something out of a movie.
Dunning: It was. But it was small-town Nebraska so you can get away with that stuff. We owned it for 15 years, up until I was through with college.
I remember checking in a guy for an extended stay and moving all of his stuff from his truck into his room. He ended up dying that night. That happened a few times over the years. I also remember a few brawls from a bar a couple of blocks away that festered and carried over into our establishment.
It could get crazy, but as a little kid growing up you think, this must be normal. My wife laughs about it all the time. But it taught me a lot about hard work, customer service and how to treat people.
Then off to college.
Dunning: I started at the University of Nebraska-Lincoln but transferred out to the University of Nebraska at Kearney campus for Criminal Justice.
But after my sophomore year, I went into business with a focus in finance and that just really resonated. I'd been thinking about being a stockbroker, but the idea of people giving a 22-year-old $100,000 to invest … well, it was becoming pretty apparent that wasn't going to happen.
What ended up getting me into the CPG space was that after my junior year, I was approached about selling cable TV packages. I made a lot of money, but mainly it was a great learning experience through door-to-door sales.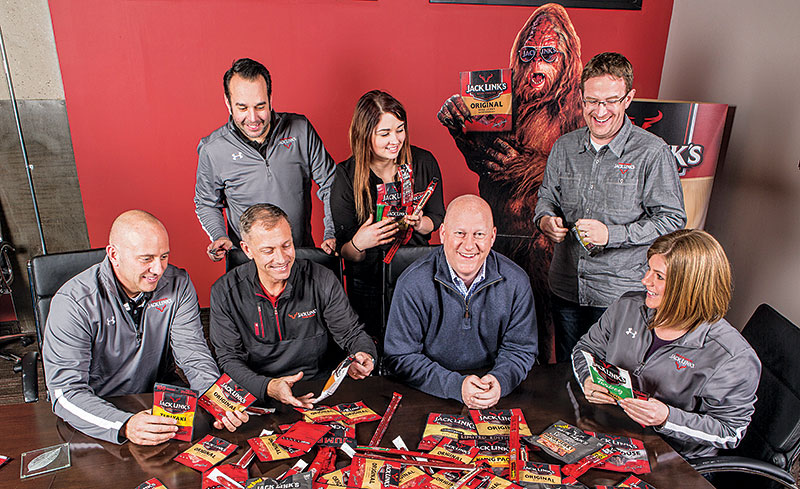 Front row (from left): Steve Althaus, vice president, sales strategy; Jeff Kjome, director, shopper marketing; Tony Dunning, executive vice president, customer development; Hollie Schroeder, associate brand manager. Back row (from left): Charles Parla, shopper marketing manager; Kaila Fiske, marketing & public relations associate; Sasquatch, jack of all trades; Jason Potter, director, category management & insights. 
How did you arrive at your first job?
Dunning: A friend told me about an awesome company, the Gallo Winery, and it sounded interesting. I had an interview with them and everything just resonated. So it was off to Tulsa, Oklahoma, to start my career. I ended up staying with Gallo for 16 years, in field sales the entire time, with the last seven years being in Bentonville, Arkansas.
How did you find your way to Northwest Arkansas?
Dunning: Laws were being passed that would allow Gallo to sell Bartles & Jaymes in grocery stores. I had to put a new distribution network together that was going to be uniquely different because we'd be going through beer distributors instead of wine/liquor distributors. Our CEO, Joseph Gallo, who is the son of one of the founders, Ernest, came in for the final interviews of the new distributors we'd lined up. At this meeting he also told us that he wanted to put somebody down in Bentonville to focus on Walmart and Sam's. Now this was pretty forward thinking back in 1993 as Walmart was maybe just a $50 billion company at that point.
Unbeknownst to me, he also thought that I was the right guy to go down there. He knew I was a small town Nebraska kid and had moved around a lot already. But I'm up in Kansas City, married, with a young child, and we had to have quite a few "What are we doing?" conversations.
But it turned out to be a phenomenal experience in Bentonville with the Walmart and Sam's folks – and the business just went crazy. We ended up living there for 17 years.
You were able to observe Walmart's dramatic transformation up close, right?
Dunning: That was the beauty of our timing. Gallo was the category captain for wine and liquor at Walmart and, at the time, our brands were a dead-on match with the Walmart consumer. Bartles & Jaymes was among the first forays into single-serve opportunity with wine coolers and quickly became number one. The intention was to get people to understand how to drink wine in an easy fashion: single serve, light, fruity … on the sweeter side of things.
But then it took on a life of its own. Everything we did just exploded the category and, of course, Walmart's business.
Where did "shopper" fit into your marketing approach?
Dunning: From a Gallo perspective, there was nothing formally called "shopper marketing" at the time, but what we were doing was still pretty cool. Since we had to be so well-versed in the products, we'd be made available to work special events where we could help educate people – putting special wine dinners together for silent auction at the local charities, for example.
Well, as luck would have it, our next-door neighbor was a really well-known chef down there who did a lot of the dinners for the Waltons. So occasionally, I'd be going to someone's house to conduct a wine tasting in front of a dining room full of Walmart executives and Walton family members. That's a fairly unique shopper engagement, right? And rest assured, there was a great ripple effect that came from that.
What prompted you to leave Gallo and join PepsiCo?
Dunning: When the opportunity arose to go to PepsiCo and run the Pepsi business for Walmart, I was really torn. But it was a great career move because it afforded me an opportunity to see things from a corporate perspective as opposed to a family-owned, privately held business. There were different processes and brands, and while Pepsi is a DSD operation, the bottling system is quite different from a distributor system.
We had a great five-year run. Aquafina was just coming to market, and then there was SoBe and Tropicana and Gatorade and all of that. It was a dynamic time with PepsiCo leaning in on acquisitions and gaining share. And, in my opinion, Pepsi specifically was pioneering a lot of cool stuff at Walmart in the area of "retailtainment." We'd put events together that involved a lot of operational and corporate support and that, when executed at store level, really made a difference. The shoppers loved it, Walmart loved it, sales went crazy, and then, guess what: People started to realize that you can turn a store into an absolute bonanza.
It actually got to the point where it was getting pretty disruptive – which honestly, was part of the appeal. Contests, and sampling sometimes, but usually a game was involved that instilled a purpose for purchase. Things like the Oreo cookie-stacking contest. Pepsi started doing things under the "Power of One" with Frito and Quaker. But then other CPGs started jumping in and all of a sudden, it wasn't uncommon for three or four of these things to be going on over a weekend. Eventually, some people became concerned that they were losing control of the operation. But it was magical and a lot of fun.
What motivated you to move to Kimberly-Clark?
Dunning: I'd had a conversation with [then Walmart executive, later CEO] Mike Duke who said what I needed was an understanding of the warehouse and supply-chain side of the business. Everything I'd done up to that point was in DSD, but the majority of the business was by then going through warehouse. So I had an opportunity to move over to Kimberly-Clark and run their Walmart global business.
My first four years with Kimberly-Clark were in Bentonville. I'd inherited a team of roughly 20-25 people. We had no shopper marketing or on-the-ground supply chain finance – all of the cross- and multi-functional aspects of a true high performing team that you need in Bentonville. We grew it really fast to about 40-45.
It was an awesome experience. Kimberly-Clark is an "everyday essentials" business, which is quite different from a high-impulse expandable consumption model, so the growth algorithm relative to my Pepsi and PepsiCo experience was quite different. But the growth opportunity was extraordinary, relatively speaking.
What's it like going head to head with a company like P&G?
Dunning: You have to respect the heck out of those guys because what they do is just extraordinary. At the time, I think they were doing four times the business of Kimberly-Clark at Walmart and Sam's, although they had five times the people. We competed head-on everyday. And I'm happy to say that, while I was there at least, we won more than we lost.
Then after those four years, I moved to Wisconsin and took on the job of running USA sales for Kimberly-Clark on the consumer side. Great company, great culture, great people. At that point, I'd worked for a West Coast company, an East Coast company and now a Midwest company.
K-C is now regarded as a premier practitioner of shopper marketing. What was it like when you arrived?
Dunning: It literally didn't exist when I got there, and credit goes to Don Quigley and Mark Scott for bringing it to life. And now folks like Anne Jones and Anne Jenkins have all come in and made it even better and are truly driving the business.
As a sales pro, I assume you've seen first-hand that not everybody buys into shopper marketing immediately, right?
Dunning: Let's face it: the sales folks are always convinced that they can do without it; the brand folks too; everyone has different agendas. But there's magic in shopper marketing. When I started at Jack Link's, my message was consistent: It's not "his shopper marketing" or just "her department." We all are shopper marketing. We all – and that includes everything from brand to sales to R&D – must embrace shopper marketing as a point of true transaction with the shopper.
What brought you up to Jack Link's?
Dunning: I was really intrigued about getting back to something that's family-owned, privately led and smaller in scale yet has the dynamic of growth. Growth is fun. Jack Link's is the brand leader and the category leader in this space. But Troy (Link) has put a lot of innovation and R&D work in place, so even though the company is 30 years old this year, he'll tell you that we're just getting started. It was just the right time to be able to jump onto something like this.
A lot of national players seem to be coming into jerky and meat snacks space.
Dunning: There's ConAgra with Slim Jim, obviously; Hershey, General Mills, even Tyson now with Ballpark Jerky. It all adds credibility to the category, to be sure. Keep in mind there are 475 jerky companies out there, so it is very fragmented.
What are your retail priorities now?
Dunning: It's been an amazing year. We were brought up in the c-store business and it remains a super-important channel for us, obviously. And yet there's so much more we can do. The biggest structural change that we made was putting direct selling teams in place with customers like CVS, Walgreens, H-E-B, Meijer and Kroger. Now, you can't go direct with everybody, just like you can't do shopper marketing with everybody. But we shifted to focus on the key customers we have today and then others that we knew could provide a lot of growth and category expansion.
How do you see shopper marketing changing over the next five years?
Dunning: With omnichannel and digital coming into play, I think we're just scratching the surface of those impacts, which I believe will be tremendous.
So you know how certain TV commercials became iconic – like the Mean Joe Greene-Coca-Cola commercials from the Super Bowl? Well, I believe that moving forward, marketing will focus on "experiences" that resonate with people, and I think that will apply to shopping experiences as well.
Maybe I am a little biased, because in our house, we don't really do birthday gifts as much any more; I'd much rather share an experience with my family. And sure, some people may be annoyed or bothered by this approach, but I think a few really memorable moments will rise through the clutter so that 10, 15, 20 years from now, people will be able to say, "I remember that experience."