Expo Speakers: Embrace the Power of the Digital Coupon
Get great content like this right in your inbox.
Subscribe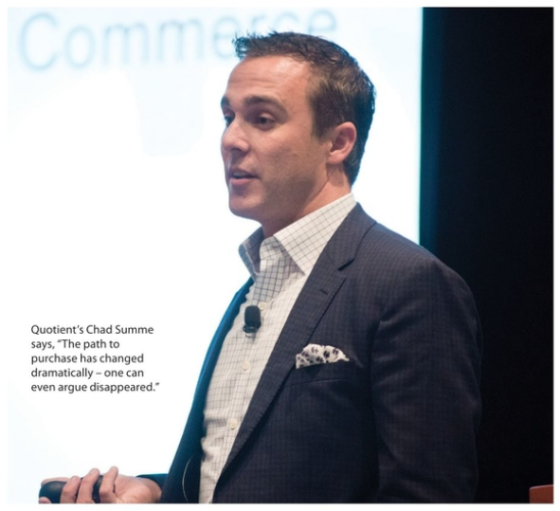 Rosemont, Ill. — How many marketers would subscribe to Sunday newspapers if they didn't have to for work reasons? David Johnson, Quotient Technology's vice president of shopper marketing, posed this question during a Path to Purchase Expo presentation in September. About five audience members raised their hands.
Sunday newspaper subscriptions have significantly declined over the past few years, yet brand managers and CPG sales executives continue to invest in newspaper free-standing inserts (FSI) coupons. Moreover, Johnson noted that about 53% of Millennials, a group that will make up about 75% of the workforce in 2025, wish all coupons were digital and some would never open a newspaper.
"The market has changed a lot and we haven't," Johnson said. "You can get pulled between the politics of your business, but you have to be a voice for the shopper at the end of the day."
Historically, shopper marketing has centered on price-point leadership, said Chad Summe, Quotient VP and general manager, U.S. sales. It involved a national deal that was connected to a retailer featuring the product and then accelerated even further by merchants finding an opportunity to do in-store displays. "It was tried-and-true," Summe said. "It was a tangible way for CPGs and retailers to come together – and that's not always easy – on a singular goal of driving sale. … It has been simple. You play, you know what you get, and anything outside this historical model was a gamble."
Though this historical model is still used today, the shopper is less and less engaged in the mediums that the model was built around. "The path to purchase has changed dramatically – one can even argue disappeared," Summe said. "Today, enabled completely by mobile, she's engaging in micromoments throughout her day."
The shopper simply wants and demands to engage with the right content, said Summe. "Content as a definition [also] has to be broadened to whatever it takes to drive the transaction," Summe said. "Whether that be simple messaging of brand communication or whether that be messaging of a value offer to get her there."
In a study Quotient wrapped up last fall, the company looked at 50 different programs with digital coupons across multiple retailers. The study compared digitally active shoppers to non-digitally active shoppers (shoppers that click coupons versus those who don't) and found that digitally active shoppers spend 66% more in their basket, shop 34% more categories and make 59% more trips.
The study also found an average of 100% lift among brand buyers when a digital coupon is activated. "If there's an offer for a P&G product, but not an offer for a Kimberly-Clark product, who's going to win?" Johnson asked. "It doesn't matter if you get to the store and there's an endcap for that product where there's not an offer. The deal will win."
Marketers can move half of what they're spending on FSIs to digital offers and drive the same amount of volume, according to Johnson. "Months ago I couldn't say this, but I can say it now and a year from now with more gusto," Johnson said.
Some Quotient clients have begun to embrace the power of digital coupons. According to Johnson, some clients have decided to reduce the number of temporary price reductions (TPRs) they have in the market and increase the number of digital coupons. Another client and "leading brand" made the decision to move away from the FSI completely, relying on 100% digital offers, and received major retailer support.