Effie Case Study: Your Style, Your Way
Get great content like this right in your inbox.
Subscribe
Program: Your Style, Your Way
Manufacturer: Unilever
Lead Agencies: Team Unilever Shopper; Geometry Global
Category: Multi-Brand/Manufacturer Shopper Solution (Bronze)
Unilever's "Your Style, Your Way" campaign at CVS/pharmacy started with an ExtraCare-driven personalized hair care pre-shop experience that was carried through to retail. The effort linked shoppers with what they learned pre-shop to what they could buy from the dedicated merchandising in stores.
For the first time at CVS, Unilever tapped into the retailer's ExtraCare program to send personalized emails and direct mail that included customized circulars with hair care models, coupons and style tips that fit that shopper profile. Unilever's brands took control of the beauty page on CVS.com, including with content demonstrating its inspirational hair-care looks and experiences. The in-store displays carried the necessary products but also continued the visual looks and creative of the pre-shop experience. A brochure, circular ad and in-store displays had coupons, hair care tips and products organized in an easy-to-digest way based on the pre-shop tactics.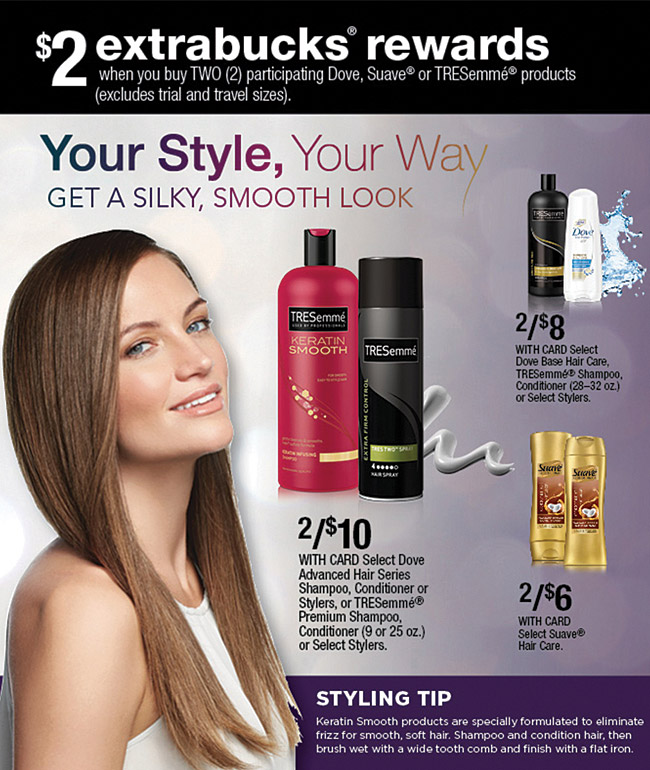 Through data found in the ExtraCare program, Unilever was able to learn that CVS shoppers thirsted for a boutique-like hair care experience in-store, focusing on a new look and how to get it. However, the hair care category at CVS at the time was considered to be overwhelming and less engaging. "Your Style, Your Way" leveraged personalized data to deliver that boutique attention while singling out Unilever's breadth of product to be what was needed to achieve that end look that inspired the shopper.
Hair care is the largest beauty category, and CVS had been experiencing a drop in sales in the category, potentially from its larger focus on health and pharmacy. Hair care shoppers had become less engaged and less committed to CVS.
"Your Style, Your Way" ushered in huge category growth for CVS, delivering more than 15% gain, and the program for Unilever doubled its return on investment. The program helped inspire women in hair care and make the drug chain a destination for product and personalized care.