Effie Case Study: Glade Plugins Car: New Product Launch
Get great content like this right in your inbox.
Subscribe
Manufacturer: SC Johnson
Lead Agency: TracyLocke
2018 Shopper Marketing Effie Award: Single-Retailer Program, Mass Merchants (Bronze)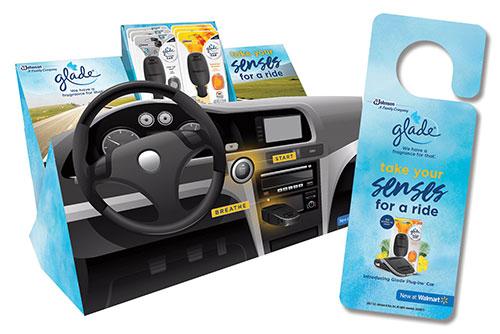 At Walmart, the air care category as a whole had been lacking inspiration. For shoppers, it had become a quick-fix aisle – like buying light bulbs – a trip made only when an immediate need for odor relief was needed, and Walmart was seeing a lag in sales. Conversely, SC Johnson saw that shoppers at other retailers did shop the category for more than solving a problem, browsing the aisle for scents that might trigger an emotional connection and impulse buy.
Leveraging the excitement around its new Glade Plugins Car product, SC Johnson brought some air care inspiration to Walmart, executing celebrity-inspired digital content and a range of displays that landed outside the category to drive traffic down the air care and automotive aisles.
Targeting married Millennial moms who are homeowners and spend around $114 a week on stock-up trips at Walmart, SC Johnson first established credibility with this shopper rolling out pre-shop digital content with popular country music singer Kelsea Ballerini, a perfect fit for the demographic. Videos showed Ballerini on a road trip in her car, testing out scents and encouraging shoppers to be adventurous. The content ran on Facebook and Twitter. SC Johnson found that Millennials spend 61% more on car accessories than the average new car owner.
In stores, signs at the entrance and on security shrouds called attention to the new product and inspired a visit to the air care and automotive aisles. Displays landed in Action Alley for more inspiration and ran in the auto care department and inside Walmart's oil change center. Sidekick displays and scented rearview mirror hang tags that could be sampled worked well in the oil change center, as consumers waited on cars. Lastly, sampling displays gave shoppers an experience of being behind a wheel and showed how the Plugin product worked as well as its scents.
The campaign kicked up overall Glade sales at Walmart versus a year earlier by earning permanent distribution in the air care and automotive departments.