Effie Case Study: Feed a Childhood
Get great content like this right in your inbox.
Subscribe
Program: Feed a Childhood
Manufacturer: MilkPEP
Lead Agency: FCB/RED
Award: Single-Retailer Program: Supermarkets (Bronze)
The Milk Processor Education Program (MilkPEP) is an organization funded by the country's milk processors, so it's not a traditional brand but rather a group looking to increase milk consumption in the U.S. Milk is a category that's been infringed on by soy and almond milk products. In fact, milk has seen a decline in sales by 17% over the past six years.
MilkPEP teamed with Hy-Vee for a regional cause campaign to grow interest in the milk category, tying it to the problem of hunger in the nation. According to program insights, within food banks, milk is the product least donated but also the most requested. And in the strong Hy-Vee community of Omaha, Nebraska, one in eight people claim to be food insecure. Hy-Vee shoppers also tend to be "giving shoppers" as 60% have donated to a charity in the last year.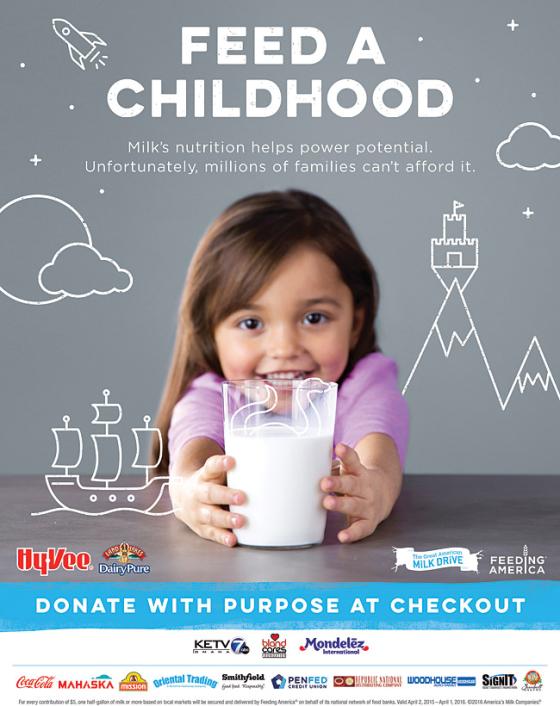 MilkPEP and Hy-Vee engaged shoppers in its "Feed a Childhood" campaign that pointed out the need for milk at food banks and the importance of milk in a family diet. Materials spanned pre-shop, in-store and post-purchase. The hopeful imagery of the program appeared on a billboard bought by Hy-Vee, encouraging shoppers to donate. In addition, a local TV station donated a TV spot and Hy-Vee collected donations at local events. Local TV and print news covered the program after the promotion ran.
Dean Foods (the milk processor partner for Hy-Vee) hosted 30 weekend events at Hy-Vee stores to collect donations and also included sampling and giveaways. Land O'Lakes and its DairyPure milk offered 5 cents off a gallon of gas for every gallon of milk a shopper donated. A stanchion at the front of the store welcomed shoppers to the program and worked with aisle signs, table tents at checkout that urged donations, and cashiers who were incentivized to get donations (one extra paid vacation day was on the line). Hy-Vee touted the campaign over its social channels, as did local food pantries.
The cause campaign ultimately brought more than 50,000 gallons of milk to local pantries and those in need. Land O'Lakes saw a 25% increase in sales versus a year ago from the promotion, while the entire milk category at Hy-Vee saw more than a 1% lift. For every $1 spent on the program, the campaign generated $25 in milk donations. "Feed a Childhood" as a campaign exceeded its goal of media impressions by more than 400% with 750,000 impressions.