Effie Case Study: Ahold Feeding America Program — Hidden Camera on Hunger
Manufacturer: Unilever
Lead Agencies: Team Unilever Shopper; Geometry Global
2018 Shopper Marketing Effie Award: Multi-Brand/Manufacturer Shopper Solution (Gold)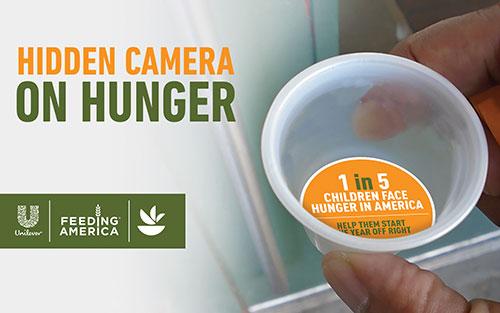 Taking on the cause of childhood hunger in America, Unilever teamed up with Ahold on a program that starkly shined a light on the issue for shoppers in stores, helping them "see" the need to help and making it easy to contribute. With its "Hidden Camera on Hunger" effort, the companies proudly donated more than 1 million pounds of food to Feeding America food banks, a 65.7% increase from the year before.
The clever "Hidden Camera on Hunger" campaign put a twist on the commonly seen sampling station inside Ahold stores. Here, a Unilever brand ambassador lured shoppers over to taste a yummy, free Unilever product sample – only they handed them an empty cup. The shopper's reaction was caught on hidden camera, which Unilever edited together and shared over their social media platforms, through Ahold's social media outlets and Feeding America's social pages.
At the sampling station, the ambassadors quickly pivoted from empty-cup disappointment to educating shoppers that one in five children are hungry everyday and that by buying $15 worth of Unilever product at that store, the shopper saves $5 for herself and helps donate $1 (or the equivalent of 11 meals) to Feeding America. While nothing can be more satisfactory than an increase in food donations – to the tune of 1,115,000 total meals – Unilever generated an increase in sales at Ahold by nearly 80%.
Unilever leveraged in-store endcaps, shelf talkers, cooler clings and circular ads to drive the program in-store. The hidden camera video also worked alongside geo-targeted, digital pre-shop ads, local out-of-home media, and hired influencers. In all, the campaign saw more than 27 million social impressions.
The "Hidden Camera on Hunger" idea was sparked by research that said moms shopping Ahold are focused on their grocery list and their family so the issue of childhood hunger wasn't on their minds and while they want to help, didn't know how. This stop at the sampling station was a bold way to educate them while also tying in an offer that easily helped them purchase, donate and feel good about contributing.