Design of the Times 2016 Platinum Winners
Get great content like this right in your inbox.
Subscribe
Chicago – Four entrants were identified as Platinum award winners in the Path to Purchase Institute's 2016 Design of the Times competition, with an LG Electronics display from Design Phase earning the "Best of the Times" distinction during a September awards ceremony held in conjunction with the Path to Purchase Expo. Here, we showcase each of the Platinum winners.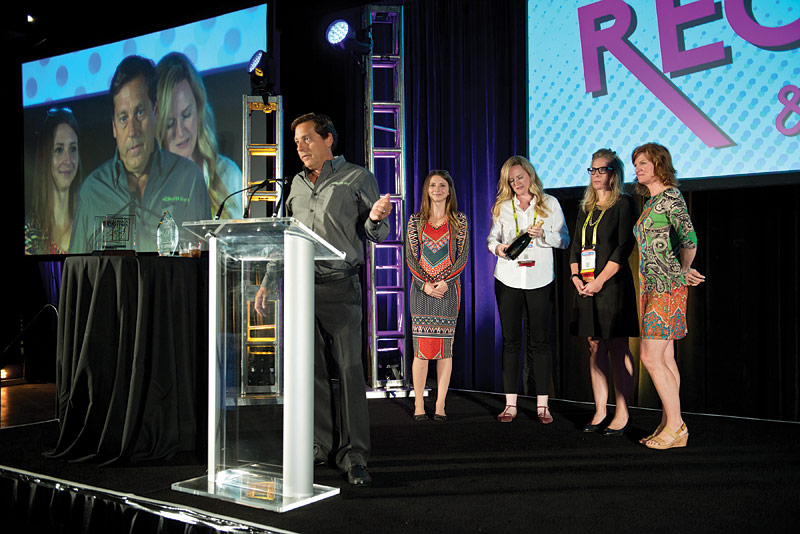 LG Electronics received top honors at the Path to Purchase Institute's 2016 Design of the Times competition for its "Best Buy TV Experience Wall." Rolled out to more than 400 Best Buy stores in April, the display provides shoppers with a premium experience while highlighting the benefits of OLED (organic light-emitting diodes) televisions.
The display houses all of LG's offerings in one location. It's the most commanding space the company has ever had within Best Buy.
Rachel Olson, senior shopper marketing manager at LG, says that forefront in the design considerations were creating a premium look and feel for the display – ensuring the TV picture quality and technology catch shoppers' attention first – as well as insights and in-depth knowledge of the journey shoppers take through the path to purchase when shopping for bigger ticket items. "We know shoppers are starting on the digital retail side, looking at reviews and finding out about these products," Olson said. "But when people are spending that kind of money on a TV, they have to go into a store and make sure those reviews deliver and the TV delivers."
The display's content has also been a large part of its early success. "We knew we needed a bigger story than what customers are already seeing from our competitors, so we created a digital billboard across all five TVs," Olson said. Partnering with Best Buy, LG made all of the content on network, a first for LG. It can be updated across all stores at any time.
On the back end, gathering data and analytics has been a game changer. "We can break down store by store, hour by hour, and see if usage is coordinating to sales," Olson said. "We can make corrections and improvements and tweak our training [of Best Buy staff members], so it's a very useful tool."
Mike Eckert, chief executive officer of Waukegan, Illinois-based Design Phase, said the display offers the maximum impact LG executives were looking for when customers see it from afar. And as they get closer, customers can interact with the different products offered on the wall via touchpads in front of each unit. "This is a product you have to see before you buy," he said. "It's so different in the fact that it's super thin, but the picture quality is better than anything ever built. You have to go to a store and then you get it."
From the graphics to the content to adjustable shelving, the display was designed to stay current in the marketplace and be a long-term solution for LG, Eckert said. "This is a great example of how excellent P-O-P can change people's thoughts about a brand. This wall is making LG a real player in this space."
Sales results, feedback from the retailer and shopper research have all pointed to success for this program, according to Olson. It's the largest budgetary expenditure per store and per location for LG.
"Customers used to shop by TV size, but now it's by brand, so we needed this bigger brand story and an experience that they can't get online," she said.
While she couldn't provide specifics, Olson said sales have increased and brand perception is up. "We have tested against all of our original goals and have made tweaks accordingly, and we're seeing our objectives met."
LG Best Buy TV Experience Wall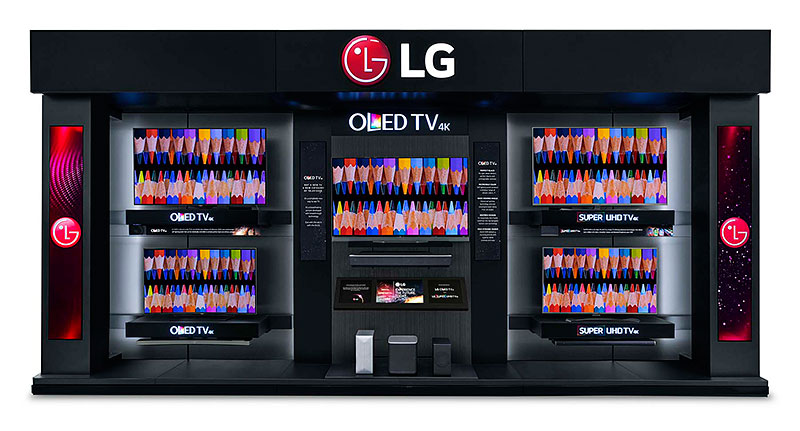 Client: LG Electronics, Englewood Cliffs, NJ
Product(s) Promoted: LG TVs and soundbars
Distribution: Best Buy
Number of Stores: 409
Production Run Quantity: 409
Introduction: April 17, 2016
Intended Duration: 2 + years
Dimensions (H x W x D): 144" x 288" x 24"
Weight: 1000 pounds
Budget Category (U.S.): Greater than $1001 (display only)
Entrant: Design Phase, Waukegan, IL
Sour Patch Kids Floorstand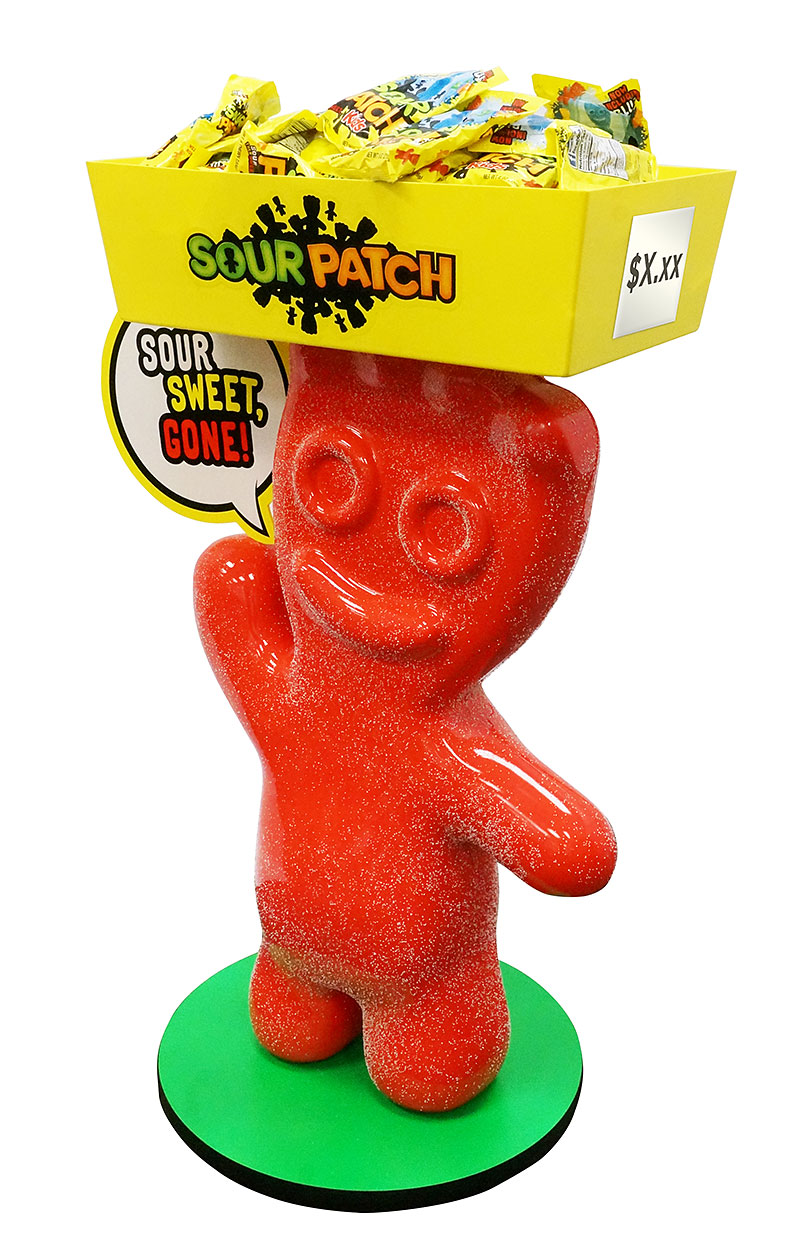 Client: Mondelez International, East Hanover, NJ
Product(s) Promoted: Sour Patch Kids product
Distribution: National
Number of Stores: 550
Production Run Quantity: 550
Introduction: Aug. 17, 2015
Intended Duration: 52 Weeks+
Dimensions (H x W x D): 43 inches x 28 inches x 20 inches
Weight: 33 pounds
Budget Category (U.S.): $301 - $350 (display only)
Entrant: InnerWorkings, Irvine, CA
The Sour Patch Kids brand has strong consumer loyalty, but the candy is not top of mind with shoppers as they make their impulse snack purchases at retail. Most shoppers avoid the candy aisle during shopping trips, which stresses to the brand the importance of a presence near checkout for conversion and secondary display merchandising to drive candy sales.
Considering these insights, the objective of this display was to increase brand recognition and recall, generate incremental impulse purchase at the front end and cut through typical front-end clutter with a clean, uncomplicated execution. The result was a floorstand that featured the mischievous-yet-cute brand personality and a "sugary" textured appearance to connect shoppers with the unique sensory consumption experience offered by Sour Patch Kids' sour and sugared, chewy candy.
While there is no specific call-to-action copy, the engaging yet simplistic nature of the display, as well as the prominently featured price sign on the product bin, worked to encourage purchase. Across the board, the unique display drove placement near checkout whereas beforehand, the product was primarily merchandised in back-of-store aisles. Program analysis showed consistent, strong sales lifts of more than 50%.
Old El Paso Publix Pallet Display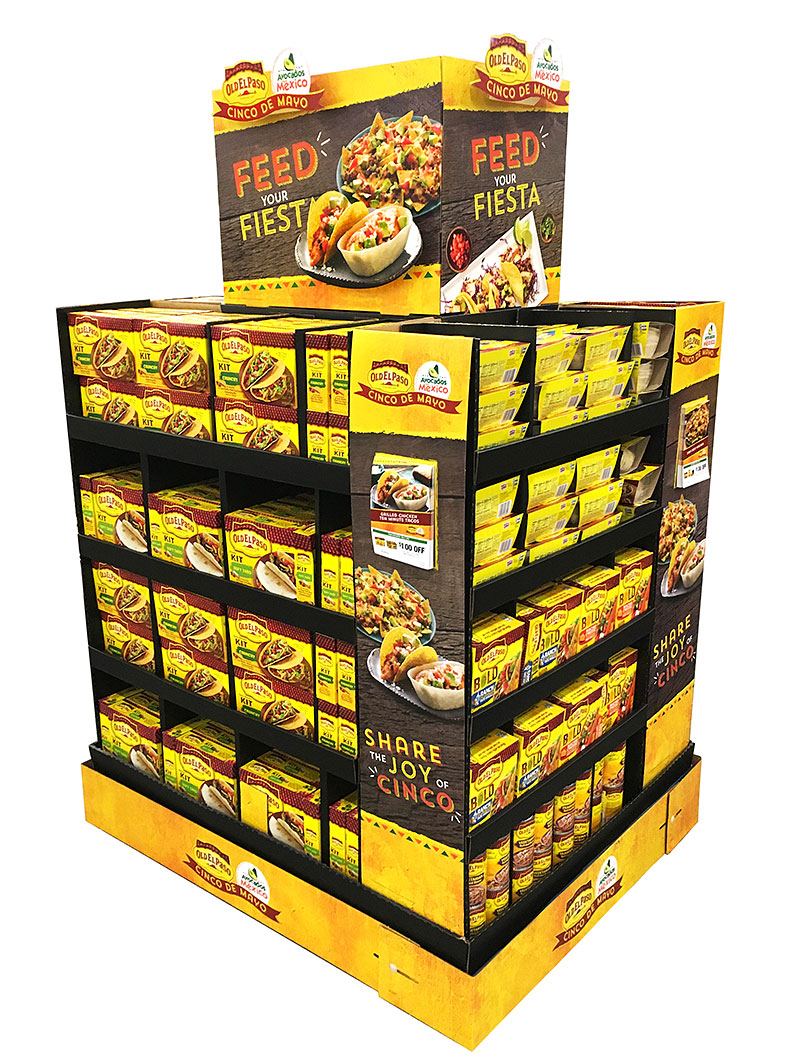 Client: General Mills, Minneapolis
Product(s) Promoted: Old El Paso
Distribution: Publix
Number of Stores: 1,000
Production Run Quantity: 1,000
Introduction: April 25, 2016
Intended Duration: 0-2 months
Dimensions (H x W x D): 70 inches x 48 inches x 40 inches
Weight: 150 pounds
Budget Category (U.S.): $51 - $100 (display only)
Entrant: Menasha Packaging Co., Neenah, WI
General Mills made a bold move with this dynamic "party on a pallet" for Old El Paso's annual Cinco de Mayo promotion in Publix stores. The pallet had to unify the brand's 19 SKUs into an upbeat, inspirational, one-stop-shopping hub with meal solutions, holiday entertaining and fresh ingredients. Behind the scenes, the promotion had to provide store managers with much-requested easy execution, durability and festive holiday decor as well as drive add-on purchases of fresh ingredients. All of this had to happen within the short Cinco de Mayo 10-to-14-day sales window.
The result was a full pallet that used a combination of height, breadth and vibrant fiesta colors to capture shopper attention from near and far. The header's 3D lug-ons added depth and led the shopper's eye to the colorful menu items, logos and coupons, which quickly conveyed the one-stop shopping appeal. "It's great," said one Design of the Times judge. "[A] cohesive unit with multiple products and solutions."
This bold approach led store managers to locate the unit in prominent perimeter locations that also drove coupon use. Behind the scenes, careful attention to the rigor of pack-out and supply chain handling enabled the pallet to arrive fully shoppable and in pristine condition.
'Star Wars' Millennium Falcon Display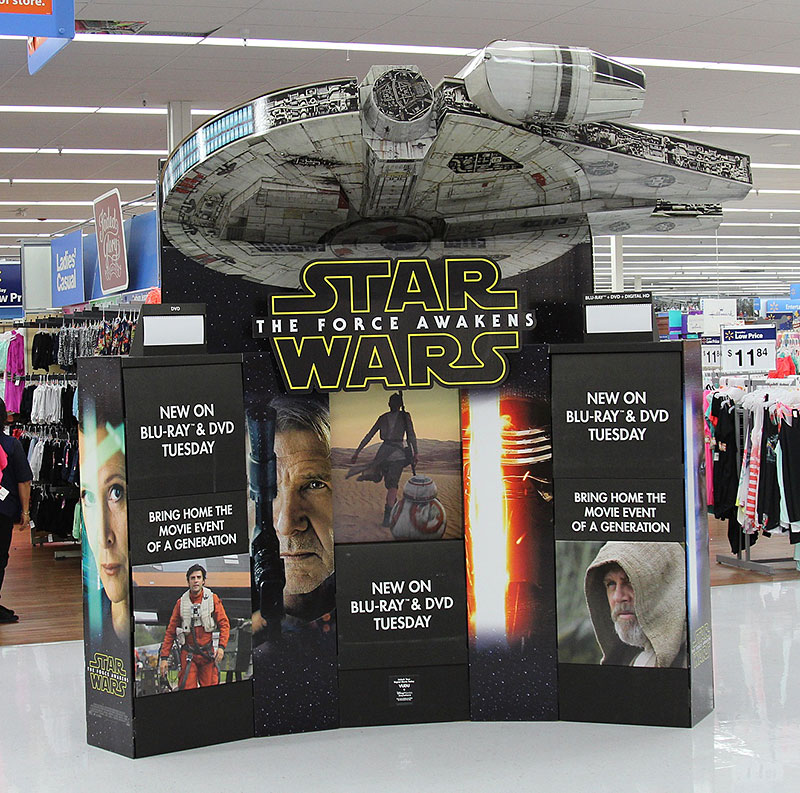 Client: The Walt Disney Company, Glendale, CA
Product(s) Promoted: Star Wars Blu-ray and DVDs
Distribution: Walmart
Number of Stores: 1,300
Production Run Quantity: 1,350
Introduction: April 2, 2016
Intended Duration: 2 weeks
Dimensions (H x W x D): 106 inches x 114 inches x 42 inches
Weight: 250 pounds
Budget Category (U.S.): $651 - $700 (display only)
Entrant: WestRock Merchandising Displays, Winston-Salem, NC
Designed for front-of-store placement, the Walmart-exclusive display helped position the mass merchant as the "Star Wars: The Force Awakens" retail destination and create a Star Wars store take over immediately as shoppers entered.
The 114-inch-tall display featured a distinctive and unique Millennium Falcon ship rising up directly toward arriving shoppers. Although the color palette of this movie is dark and muted, slashes of color for the light sabers and UV and varnished finishes for the overall black print areas reflected ambient light creating visual appeal. With 94% placement, this display also featured all of the franchise characters, but provided a 3-D Millennium Falcon ship and a Stormtrooper photo opportunity for shoppers.
The display merchandised "Star Wars: The Force Awakens" DVD and Blu-ray discs, including a Walmart-exclusive version. The availability of all SKUs at the front-of-store spectacular created excitement among shoppers and drove them to purchase a copy of the movie. Though the company declined to provide specific ROI information, The Walt Disney Co. reported a 90% sell-through of the exclusive SKU by end of week one.
Image Gallery