CVS and the ADA Join Forces to Promote Oral Health
Get great content like this right in your inbox.
Subscribe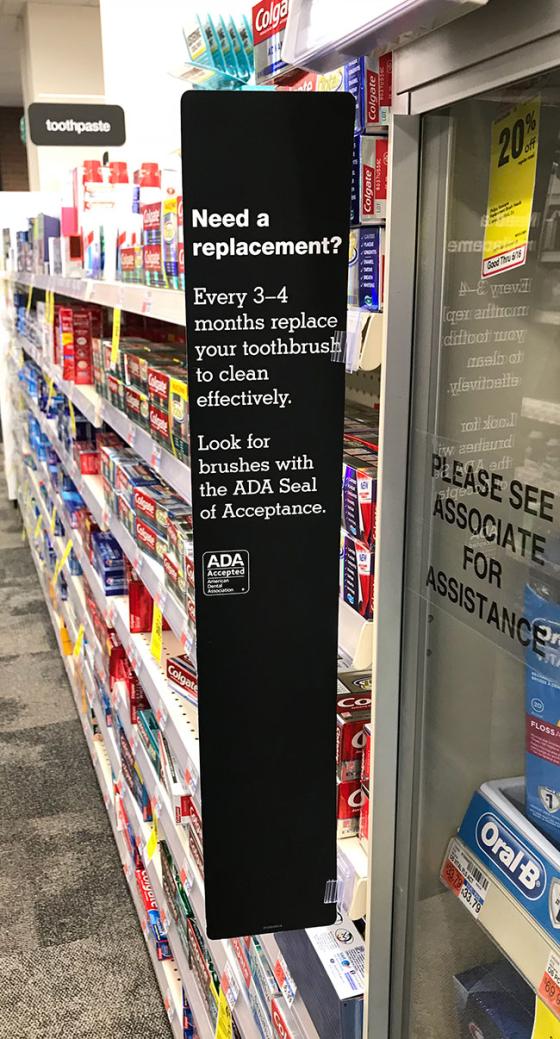 The American Dental Association (ADA) has been making its presence known at CVS/pharmacy, both in stores and online, since the duo kicked off a three-year partnership to promote oral health in January.
In stores, violators, shelf talkers and shelf signs positioned in oral health care aisles deliver clinically validated information and direct shoppers to products given the ADA Seal of Acceptance. One violator, for example, reminds shoppers to replace toothbrushes every three to four months. The signage package was deployed in more than 5,000 of CVS' 7,900 U.S. locations and will remain in stores through March 2019, according to a May 30 news release from the ADA.
"A core component of the initiative is to give premium placement and promotion of dental care products — from mouth rinses, toothbrushes, toothpastes, floss/interdental cleaners and sugar-free gum — that have received the ADA Seal of Acceptance," according to the release.
Products depicting the Seal undergo ADA scrutiny to verify compliance with current ADA- and American National Standards Institute-approved standards. Some SKUs from CVS' store brand (such as mint anticavity fluoride rinse and antiseptic mouth rinse) have earned the Seal, along with products from national brands such as Procter & Gamble's Crest and Oral-B, and Colgate-Palmolive's Colgate Total.
So far, other support for the initiative includes Twitter, Facebook and Instagram updates from CVS Health and the ADA, including a video posted Jan. 24 by CVS. The drugstore chain dedicated a full-page feature in its May 20 circular to plug ADA-approved products found at CVS, deliver tips and direct consumers to the ADA's Find-a-Dentist online search tool.
A promotional microsite (cvs.com/adadental) launched in May hosts the dentist search tool and links to e-commerce pages for groups of ADA Seal products in categories such as "power toothbrushes," "sugar-free gum," "denture care" and "teeth whitening." The site also offers ADA videos and articles promoting oral health information and tips. Seasonal content on the site is updated quarterly, according to the release.
The ADA also is present elsewhere on cvs.com, offering an "ADA – Accepted" product search filter in the "Personal Care" and "Oral Care" category shops. The filter currently reveals a list of 74 SKUs inlcuding mouthwashes, toothbrushes, gum, floss and other oral care materials. The Oral Care shop also includes articles such as "5 Tips for an Oral-Care Regimen" and "Heart Benefits from Oral Health."
The news release also indicated that "themed programs to connect oral health with specific seasons, holidays and health awareness months will continue over the next three years." CVS/pharmacy and the Association will collaborate in September for "CVS Oral Health Month."
Though CVS' partnership with the ADA is new, the same in-store and online promotional approach was first introduced in April 2017 with its new store design built to enhance the customer experience and promote shopper health. Similar informational signage and digital initiatives have already begun to roll out across key categories including beauty and personal care, household essentials, vitamins and supplements, and "better-for-you" food.
Stay tuned for more coverage as CVS continues to hone these initiatives.