Coca-Cola, Meijer Serve 'All Together Meals'
Get great content like this right in your inbox.
Subscribe
More Information
Brand: Coca-Cola
Retailer: Meijer
Key Insights: The target shopper (busy mom) is seeking a complete solution for a convenient, hassle-free meal so that she can spend more time with her children and less time cooking.
Activation: The partners reached consumers in the pre-dinner period through drive-time radio, billboards, targeted digital banners, social influencing and a custom landing page on Meijer's website. In stores, activity included security shrouds at entry as well as a variety of in-aisle and deli section signage.
In its second year, redesigned program targets moms looking for solutions.
ATLANTA — The Coca-Cola Co. and Meijer updated a program this year aimed at spurring increased sales of both Coke products and the retailer's prepared meals. The program, called "All Together Meals," offers shoppers combo deals when they purchase a rotisserie chicken, fried chicken, pizza or deli dinner selection along with a 2-liter Coca-Cola SKU.
The "All Together Meals" name references both the offer and the fact that the target shopper is seeking a complete solution for a convenient, hassle-free meal. "We're doing things to speak to that consumer during that period when they would be looking for a meal solution," says Drew Allen, assistant vice president of customer marketing – Central Region, Coca-Cola North America. "They need a little help on a busy Tuesday or Thursday night."
The program's name also references the fact that these meals can be an opportunity for families to come together, and for busy moms to spend more time with their children and less time cooking. "All Together Meals is simply how you pair a great beverage like Coca-Cola with some of the great prepared meals we have at Meijer, and make it easy for families to sit together, dine together and enjoy each other's company," says Peter Whitsett, executive vice president of merchandising and marketing, Meijer.
The program launched in October 2016 in Meijer stores to great success, Allen says. The redesign, which rolled out in September, updated the point-of-sale and creative elements to match Meijer's base white brick style and replace a previous wood theme.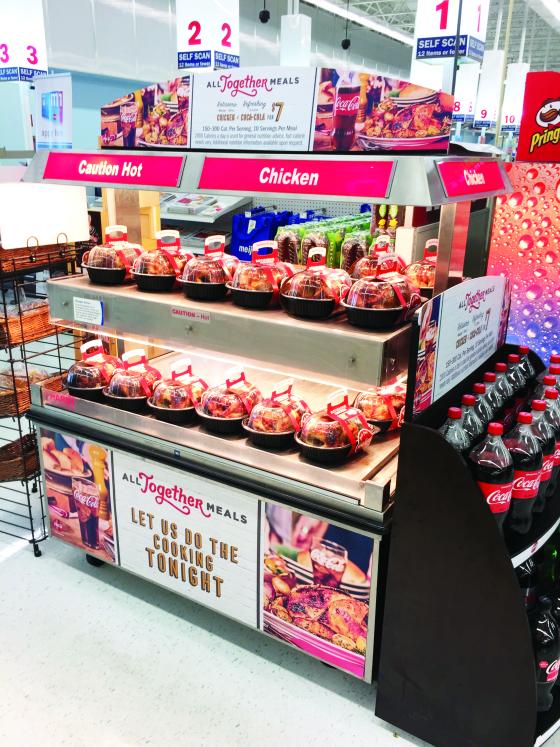 The program seeks to reframe Meijer in consumers' minds as a go-to option in these situations. "A lot of moms will go to Meijer to get milk, bread, eggs and cheese because they need it for the next morning, and then they'll stop someplace else on the way home without thinking about Meijer, when there's a great meal solution there as well," Allen says.
The media plan for the campaign focused on reaching consumers at this key pre-dinner period out of stores through drive-time radio, billboards, targeted digital banners, social influencing and a custom landing page on Meijer's website.
In stores, displays promoting the deal hit consumers throughout their path to purchase, starting with security shrouds in the entry. Other displays include in-aisle occasion signage, blades and navigation in the beverage section, and header cards and bunker wraps in the deli section. At shelf, the deal is promoted in the beverage section on shelf strips and in the deli section on the main pizzeria and deli menu boards. Signage promoting the deal can also be seen on the mobile chicken warmer and on Coca-Cola deli racks featuring 2-liter bottles and messaging for the chicken deal.
"It's an easy-to-execute program that allows Coca-Cola to show up in a more enhanced way within the prepared meals section at Meijer," Whitsett says. The ongoing program has represented a new strategy for Coca-Cola and Meijer, which had previously partnered only on shorter term meal-deal promotions, Allen says. The program will be judged by metrics that include incremental sales and conversion into the deli.
A key differentiator of the program is its budgetary focus on an equity-building campaign, Allen says. This has included a conscious decision to avoid spending on digital couponing to further highlight the deals. "It's often hard to convince retailers to trust [in that approach]," Allen says. "Their inherent nature is to say, 'Let's discount it and we'll sell more.'"
Path to Purchase Institute (P2PI)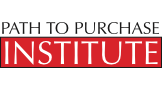 The Path to Purchase Institute is a global association serving the needs of retailers, brands and solution providers along the path to purchase,
With All Together Meals, Coca-Cola and Meijer are united in believing that the opportunity is bigger if those dollars are instead invested on additional messaging that speaks to moms during the pre-dinner occasion. "We can see from the results so far that it's definitely working," Allen says.
Partners for the program include creative agency FCB/RED, Chicago; creative design firm Utoka, Atlanta, which helped refresh the design to incorporate Meijer's style guide; and influencer marketing company Collective Bias (New York).