Best Buy Ramps Up Support Offerings
Get great content like this right in your inbox.
Subscribe
Best Buy is looking to its employees and the support services they offer to differentiate itself from online competitors and capitalize on shifting consumer behavior as the consumer electronics retailer makes headway on its 2020 growth strategy.
Next quarter, Best Buy is expanding Geek Squad's new Total Tech Support program nationwide. The membership-based plan has agents providing unlimited support on all consumer electronics regardless of where or when they were purchased. Employees can provide advice in stores, at a member's home, online or over the phone.
"We believe that customer support needs are often not limited to a specific product. The need now is to have all of their technology work together," chief executive officer Hubert Joly told analysts on a March 1 fourth quarter earnings call.
Currently available in 200 U.S. stores across select markets, Total Tech Support costs $199 annually and includes discounts on in-home services and extended warranty programs. Throughout Canada, Best Buy offers a slightly different version of the program priced at $19.99 per month that also was tested in select U.S. stores and includes separate price points on offerings such as in-home services, among other differentiating attributes.
In stores, there haven't been many Total Tech Support P-O-P materials prior to the nationwide launch. Online activity, however, includes a paid Google search ad directing users to a dedicated promotional page within bestbuy.com, an online PDF brochure, weekly ad mentions and three YouTube videos. (View one below.)
The company is also building out a new services platform to help power its Total Tech Support offering and streamline quick and easy access to Geek Squad tech experts, including a new mobile application with video chat capability.
The moves follow last year's national expansion of the In-Home Advisor program, which sends Best Buy experts to consumers' homes for personalized technology and appliance consultations.
The In-Home Advisor program comes with no purchase obligation and is heavily promoted in stores through flyers, A-boards, easel signs, stanchions and other signage highlighting its benefits and opportunities with service pricing overviews, device installment options and possible deals. For example, some Best Buy stores positioned framed flyers and P-O-P materials dangling advertisements and promotions such as "free professional installation" with purchase of a Vivint home starter kit.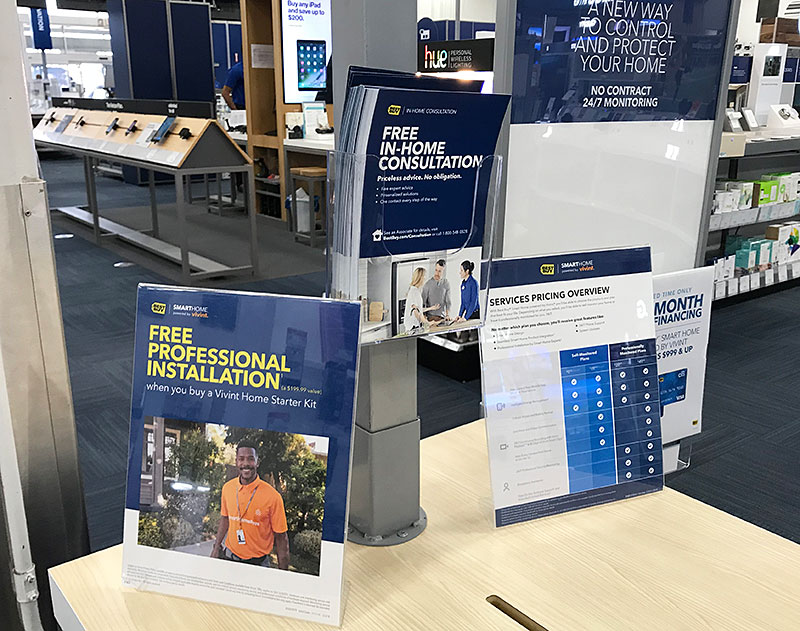 Online activity for the program spans a dedicated promotional page within bestbuy.com, Twitter updates, blog posts on Best Buy's corporate blog and sponsored blog posts. Circular features, and TV and radios spots round out the support.
Unlike the fee-based Total Tech Support program, In-Home Advisor is a free service. Best Buy instead reels in revenue through the opportunity Home Advisors unleash by working with Total Tech Support and associate recommendations.
"The benefit of [In-Home Advisor] is in product sales, unlocking demand and building relationships," said Joly on the aforementioned call. "Total Tech Support is equally exciting. It complements, in a way, the upfront consultative approach [of] In-Home Advisor with the ongoing support across all of the customers' portfolio … We see Total Tech Support, number one, as a service offering with its own profit and loss, but also as a part of the flywheel we're trying to build, building an end-to-end relationship with the customers."
As product innovation and an increasing consumer need for assistance drives today's "opportunity-rich environment," Best Buy is leveraging its unique position as the market share leader to expand what they sell and evolve how they sell, while building "all the enablers to capture these growth opportunities," Joly said on the call.
The expert associates and the support they provide on the front line through personal interactions and technical problem solving are central to the company's plan. Best Buy continues to make considerable investments in employee pay, training and management tools as skilled employees are key to the company's ongoing success.
For fiscal 2019, both support programs remain top priorities as Best Buy prepares Total Tech Support for its spring launch nationwide and continues to invest in the In-Home Advisor program by adding advisors and improving their related tools and systems.
As part of its larger strategy, Best Buy has a lot more in the works including closing all remaining Best Buy mobile stand-alone stores, further streamlining the online buying process for customers, improving fulfillment options, and continuing to explore and invest in a range of digital solutions and personalization initiatives such as voice assistance.