Amazon Underscores Its Shipping Prowess with a 'Jurassic' Delivery
Get great content like this right in your inbox.
Subscribe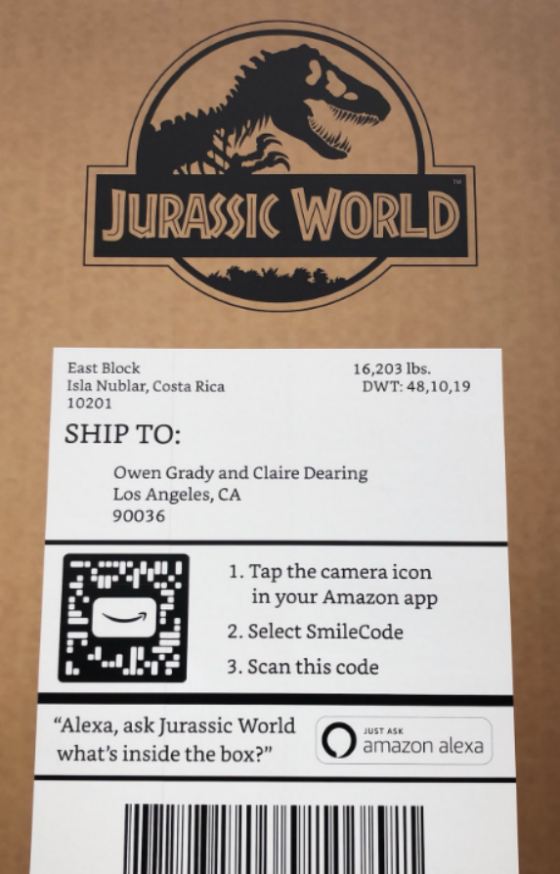 Amazon hasn't sat out on the prehistoric action surrounding Universal Pictures' June 22 theatrical release of Jurassic World: Fallen Kingdom.
The company promoted its Prime service and shipping capabilities with a stunt more than a year in the making. On May 30, a flatbed truck drove around Los Angeles carrying a massive version of Amazon's shipment box punched with air holes, stirring up attention and social media shares prior to an unboxing by the film's stars that revealed the box's contents: a life-size T-rex statue that reportedly weighted in at 16,000-pounds.
The box depicted an #AmazonFindsAWay hashtag in reference to the insight on dinosaur reproduction from the franchise's original film. It also bore a label addressed to the film's protagonist and sported a SmileCode scannable via Amazon's mobile application to watch a video of another part of the giant package's journey (see below) and access an e-commerce page for discounted Jurassic Park films.
The label and aforementioned video ultimately prompted consumers to ask their Amazon devices, "Alexa, ask Jurassic World what's inside the box?" Developed by Universal in partnership with Earplay, the "Jurassic World Revealed" Alexa skill offers a teaser for an interactive audio experience that will go live later this month.
A June 1 Twitter update from Amazon's Prime Video account also depicted the box while inviting consumers to enter a sweepstakes awarding an Amazon Echo by replying to the thread.
The whole effort came out of a brainstorm between Amazon's advertising sales, creative services, and marketing teams as well as Universal's theatrical, franchise management, brand development, and home entertainment teams, Amazon U.S. ad sales chief Jeremi Gorman told Adweek.
"Amazon production spearheaded communication between a great group of cohorts who were involved in this project," Gorman said. "Among those were Tool of North America, who helped produce the teaser video and the citywide driving stunt, and Red Rock Entertainment, who ensured the day-of talent theatrics ran smoothly. Universal also introduced their partnership with Jeep to provide proper Jurassic-branded escorts — its iconic Jeep Wrangler — as the box was driving around town."
Kinetic also was a partner on out-of-home elements, and Essence participated as a media agency for Universal, according to Adweek.
In related activity, Amazon also helped Kellogg Co. with a high-tech tie-in to the film.