Amazon Puts Its Packaging to Work for Children
Get great content like this right in your inbox.
Subscribe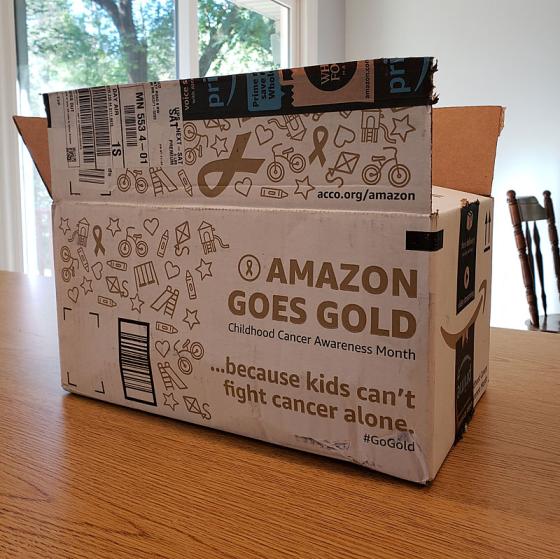 For the second year in a row, Amazon teamed up with the American Childhood Cancer Organization (ACOO) to tie in to September's designation as "Childhood Cancer Awareness Month."
As part of its month-long awareness campaign, the retailer delivered millions of packages in uniquely designed boxes sporting the gold ribbon international symbol for childhood cancer and proclaiming, "Amazon Goes Gold … because kids can't fight cancer alone."
The company additionally gave one of its Amazon Prime delivery planes a temporary paint job for the occasion, hosted events for children with cancer and made donations to pediatric oncology programs on their behalf. Employees also wore pajamas to work to show their solidarity. Amazon employed a #GoGold hashtag for the effort. Multiple social media updates from the partners and supporters contributed.
In collaboration with Amazon, ACCO has introduced "Why Not Kids" — described as "an innovative state-level approach to overcoming the disparity between adult and childhood cancer research." The partners will advocate for policies and funding in recognition that children are not simply small adults, according to a dedicated web page within acco.org that accepts monetary donations via Amazon accounts (among other payment methods).
ACCO is one of many charities that participate in the "Amazon Smile" program that lets shoppers donate 0.5% of eligible Amazon purchases to their selected nonprofit.