Algorithms Are the New Consumers
Get great content like this right in your inbox.
Subscribe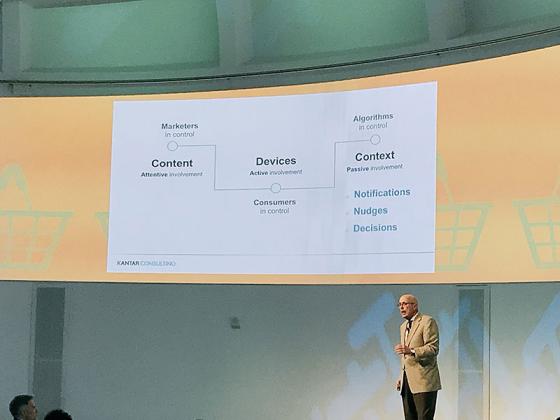 It is generally accepted among CPG manufacturers that advancements in technology have shifted the control from marketers to consumers, but now they need to prepare for a new shift in which shoppers are relinquishing their power to algorithms.
In a keynote presentation at the WPP Checkout event on Feb. 6 in Miami, Kantar Consulting executive chairman J. Walker Smith warned that "this is already happening," citing the power of an Amazon Dash Button working with a smart washing machine to ensure a consumer's favorite detergent brand is ordered whenever they're running low.
"You never have to pay attention to another laundry detergent ad," he said. "All you have to do is interact with it once and let algorithms do all the work."
Smith said we are in the midst of a third age of consumption, where cognitive constraints on buying are as important as economics or resources. Consumers receive an average of 74 GB of data through their computers and mobile devices every day, more than double what they were served up in 2008. The number of ads they see has increased 120% in the same time period, which leaves them feeling overwhelmed, and leads them to seek out products and services that will anticipate their needs. Smith compared algorithms that can send shoppers notifications or even make purchasing decisions for them to the shopping equivalent of a self-driving car, giving time and headspace back to consumers.
Amazon is a leader in the field when it comes to product recommendation algorithms and uses that data to reduce shipping times by placing products in warehouses near likely purchasers. The retailer will even start processing transactions before a shopper confirms the purchase if they've determined it's likely for the interaction to end in sale. Other brands are taking different approaches to using technology to meet consumer needs. Pizza Hut has experimented with letting customers order through eye tracking, Procter & Gamble's Oral-B has a Bluetooth-enabled toothbrush that will monitor a user's brushing habits and share data with her dentists, and some shoes can be synced with Google Maps to buzz when the wearer needs to turn while traveling a specific route.
All of these innovations take consumers from active to passive involvement in their decisions. When it comes to purchasing, efforts to land in a shopper's initial consideration set will no longer be useful. Instead, Smith said brands will need to adapt by learning how to read a user's profile and finding ways to get an algorithm to match them.