Ahold Cooks Up Family Meal Deals
Get great content like this right in your inbox.
Subscribe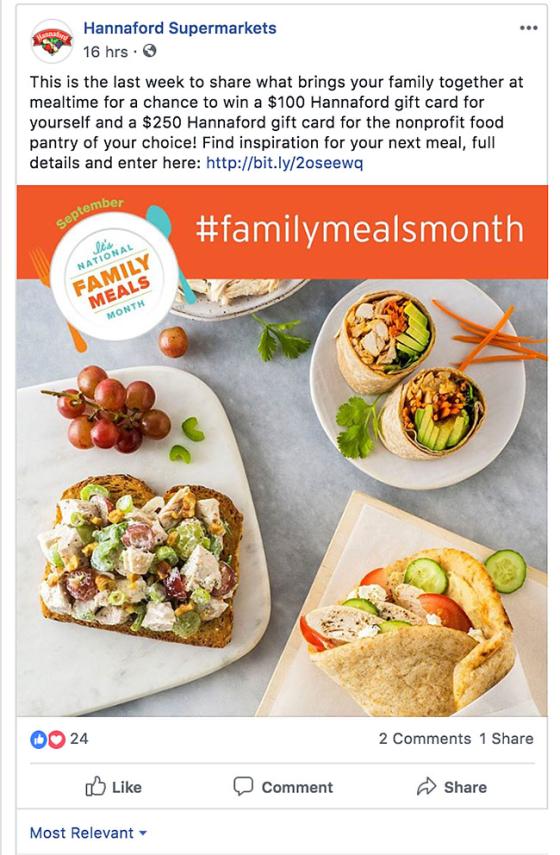 Ahold Delhaize's Hannaford is tying in to the Food Marketing Institute Foundation's designation of September as "National Family Meals Month" with a "Family Meals" sweepstakes.
Consumers enter from Sept. 4-30 on a promotional page within hannaford.com by submitting a picture and a description of what makes a family meal special in their home. Five winners will receive a $100 store gift card and can choose a nonprofit food pantry to receive a $250 card.
A home page display ad, email ads, and Facebook, Twitter and Instagram updates link to the entry page. A Sept. 10 Facebook update included advice from Hannaford's in-house culinary specialist Dorene Mills on gathering the family together and linked to a slow-cooker Creole-style red beans recipe she wrote for the September issue of the chain's Fresh magazine that incorporates store brand SKUs.
A full-page feature in the chain's Sept. 2 circular recommended making breakfast a family meal and offered deals on components from brands including private label Nature's Place, General Mills' Cascadian Farm and Upfield's I Can't Believe It's Not Butter.
Sibling chains Giant/Martin's, Giant Food and Stop & Shop are also participating in National Family Meals Month. A feature running in each chain's Sept. 7 circular used the campaign logo to deliver a 30-minute chili recipe and dangle $2 off fresh meat with the purchase of six products incorporated in the dish from brands including Kraft Heinz Co.'s Kraft, Conagra Brands' Hunt's and McCormick & Co.'s Frank's RedHot. Radio and TV spots, carousel ads on chain home pages, and Facebook, Twitter and Instagram updates support the effort.