7-Eleven Runs an E-Commerce Super Bowl Play
Get great content like this right in your inbox.
Subscribe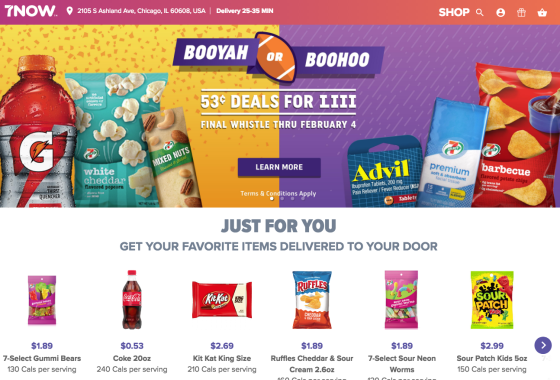 7-Eleven leveraged the National Football League's 2019 Super Bowl this month to spotlight its rapidly expanding 7Now delivery service. 
Encouraging shoppers not to "miss a single moment of the big game," the retailer deployed a Jan. 31 media release touting $3 whole pizzas (typically $7.99) available through its 7Now delivery service from Feb. 1-3. On Feb. 4, the day after the 53rd Super Bowl, select "post-game" SKUs — including a 28-ounce beverage from PepsiCo's Gatorade, a Coca-Cola Co. 20-ounce SKU, a Hershey's Kit Kat bar, a four-count packet of Pfizer Consumer Healthcare's Advil and private-label 7-Select pocket facial tissues — were also available for 53 cents for the day through the 7Now service. Carousel ads on 7Now's web page (delivery.7-eleven.com) touted the promotions. The delivery service's web page and dedicated mobile application also deployed notifications and messages to plug the offers.
"7‑Eleven continues to redefine convenience through digital technologies and 7Now brings it to life for our customers. For the millions of Americans who throw parties for the big game, 7Now will bring you everything you need. From pizza, to beer and party favors, 7‑Eleven is here to deliver," Gurmeet Singh, 7-Eleven's chief digital officer and chief information officer, said in the release. "Whether your team wins or loses, 7Now will either help you punt post-game misery with tissues and ibuprofen or kickoff a weeklong celebration with all the treats and drinks you desire."
The retailer has been rapidly expanding its 7Now delivery service, growing it from a test at 10 Dallas stores in 2017 to more than 900 stores across 277 U.S. cities (as of Jan. 31), a 7-Eleven spokesperson told P2PI. The service allows shoppers to order a variety of product for delivery ranging from PepsiCo's Doritos chips to a cherry Slurpee and Nestle's Hot Pocket frozen SKUs to Unilever's Ben & Jerry's ice cream. Additionally, 7‑Eleven offers delivery of beer, wine and/or liquor across 18 markets, including Los Angeles, Chicago, San Antonio, New York, Phoenix and St. Louis. According to its web page, 7Now orders incur a $3.99 deliver fee as well as a $1.99 "small basket fee" on orders under $15. The first three delivery fees (if within 30 days of the first) are waved through March 31.
Outdoor signs and window clings plug the delivery service at participating stores. 7Now is available in the cities listed below (for a complete list visit the "E-Commerce Strategy" within 7-Eleven's profile on P2PI.org).
| | |
| --- | --- |
| State | City |
| Arizona | Chandler, Mesa, Phoenix, Scottsdale and Tempe |
| California | Los Angeles, Inglewood, Culver City, San Diego and 122 other cities |
| Colorado | Colorado Springs, Denver, Commerce City and 14 other cities |
| Florida | Fort Lauderdale, Miami, Miramar, Orlando and 33 other cities |
| Illinois | Chicago |
| Massachusetts | Boston, Cambridge, and 3 other cities |
| Maryland | Baltimore, Bethesda, Bladensburg, Capitol Heights and 15 others |
| Missouri | Saint Louis, Hazelwood, Affton and 5 other cities |
| North Carolina | Charlotte and Matthews |
| Nevada | Henderson, Las Vegas and North Las Vegas |
| New York | Brooklyn, Corona, East Elmhurst, Forest Hills, Long Island City, Ridgewood, Middle Village and New York |
| Oregon | Aloha, Beaverton, Milwaukie, Portland and Tigard |
| Pennsylvania | Philadelphia and Pittsburgh |
| Texas | Addison, Austin, Dallas, Fort Worth, Irving and 12 other cities |
| Utah | Draper, Kearns, Salt Lake City and 7 other cities |
| Virginia | Alexandria, Arlington, Chesapeake, Norfolk and Virginia Beach |
| Washington | Bellevue, Kirkland, Redmond, Renton and Seattle |
|   | Washington, D.C. |
| Total (as of Jan. 31): | 277 |
| Source: 7-Eleven/Ketchum |   |